2006 NY Auto Show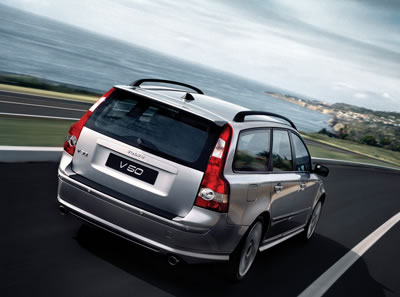 The V50 is a uniquely Volvo premium compact Activity Sportswagon. It continues to be offered in three versions: The most attainable is the V50 2.4i. The performance-oriented V50 T5 and the all-weather V50 T5 AWD enhance the fun-to-drive factor. Changes for 2006 include a new, simplified package and option structure, redesigned alloy wheels and improved cupholders. T5 models receive a "pushdown" function to engage reverse gear for the 6-speed manual transmission.
From the outside, the V50 is unmistakably a Volvo, a modern evolution of the sportswagon design language that began with the V70 family wagon. The interior is a revolution, with an ultra-slim center console – the first of its kind in the automotive world – creating an aura of exclusivity, simplicity and space.
The Volvo V50 offers a choice of spirited 5-cylinder engines: a normally aspirated 2.4-liter unit producing 168-horsepower and a 2.5-liter 218-horsepower light-pressure turbocharged T5 engine. Those who crave an even more dynamic driving experience may opt for electronically controlled all-wheel drive.
News