2006 NY Auto Show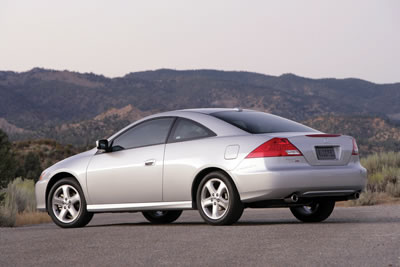 The entire Accord line-up gets an extensive face lift this year as well as a host of new features and enhancements. The addition of a new Accord V6 Sedan with a 6-speed manual transmission is designed to appeal to driving enthusiasts.
Accord Sedan and Coupe styling takes on a dynamic new and sporting character. Freshened exterior elements on all Accords include new front and rear styling with new bumper fascias, front grille, trunk lid design with integrated LED brake lamp and LED taillights. Sedans have restyled rear fenders to accommodate the newly styled LED taillights.
Powertrain improvements abound across the Accord line-up. The V6 engine's horsepower is increased to 244 hp and the 4-cylinder engine's horsepower is increased to 166 hp. The 4-cylinder engines are now controlled with Drive-By-Wire (DBW), rather than a throttle cable, providing for smooth operation and enhanced throttle response.
The Accord Hybrid remains the most fuel-efficient Accord achieving an EPA rating of 29 mpg in the city and 37 mpg highway. Additionally, the Accord Hybrid is now cleaner than ever, achieving California Air Resource Board AT-PZEV certification.
News