2006 NY Auto Show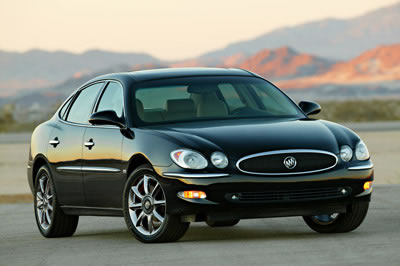 Buick's LaCrosse premium midsize sedan gets even higher levels of standard safety features to complement its contemporary styling, powerful engines and exceptional degree of comfort, quietness and responsive handling.
As Buick's newest entry in the premium midsize segment, LaCrosse signals the future direction for Buick, with the emphasis on smooth power, elegant design, expertly crafted interiors and a comfortable yet controlled ride.
LaCrosse is offered with two powertrains. The CX and CXL are powered by one of the most renowned engines in GM's lineup, the 3.8-liter V6. Rated at 200 horsepower, the engine features electronic throttle control to improve engine response and optimize fuel efficiency, along with upgrades for quiet operation.
The performance-oriented LaCrosse CXS has as standard a 3.6-liter V-6 VVT (variable valve timing) that delivers 240 horsepower.
Side curtain air bags are now standard on all 2006 LaCrosse models, including the well-equipped CX, elegantly appointed CXL and performance-tuned CXS. The side curtain air bags are in addition to LaCrosse's standard dual-stage frontal air bags, which provide supplemental protection for front seat passengers. All LaCrosse models also receive standard anti-lock brakes.
News