2006 NY Auto Show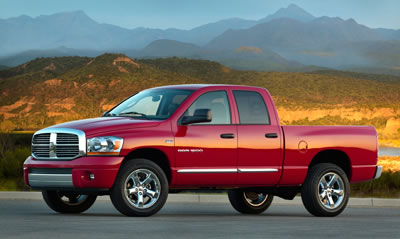 With the 5.7-liter HEMI V8 engine, Ram 1500 delivers a best-in-class 345 horsepower and 375 lb.-ft. of torque, making the Ram 1500 the most powerful mass production light-duty pickup truck in the market.
Featuring available HEMI power with Multidisplacement System (MDS), a new hydroformed and fully boxed frame and the most distinguished pickup truck styling on the market, the new Ram 1500 further distances itself from the competition in efficiency, refinement, safety, stability, comfort, composure and design.
The Ram 1500 also features a standard electronic transfer case and front-axle disconnect system on four-wheel-drive models, and new larger headlamps, power sliding rear window, bucket seats, full-screen navigation radio and a DVD entertainment system.
Without compromising its venerable power, the Ram 1500's HEMI V8 engine features the first-ever fully functioning cylinder deactivation system—Multi-Displacement System (MDS) on a pickup truck.
News