THE AUTO CHANNEL
INTERNET NETWORK
Since going on-line January 1996, The Auto Channel has established itself as the most complete and comprehensive automotive information resource on the Internet: welcoming millions of consumers, enthusiasts, and fans from more than 80 countries. TACH is a content rich web entity filled with original and Internet exclusive material. It is what Forrester Research classifies as a DESTINATION SITE; that is, a full-fledged channel for exchanging information, and that uses information, entertainment, and high production values to attract an audience and keep them coming back.
By comparison, most other Internet entities provide little or no real content, and are merely linking mechanisms or search engines. The Auto Channel offers Internet users a one-stop repository for information and entertainment that covers every aspect of the automotive world. TACH is continuously updated throughout the day, every day. Critical response to The Auto Channel's quantity and quality of information exemplifies the adage Content is King!
The Auto Channel contains over 300,000 screen pages of information, encompassing 18 subject areas: New Vehicles, Used Vehicles, Collector & Specialty Cars, Motorcycles, Recreational Vehicles, Parts & Accessories, Repair & Maintenance, Women & Cars, Teens & Cars, Consumer Affairs, Behind the Wheel, Off Road, Big Rigs, Insurance, Shopping, Replicas & Models, Industry, and Motor Sports. The Motor Sports area is further broken down into the 9 recognized categories of motoring competition: Stock Cars, Open Wheel, Touring Cars, Rally & Off Road, Drag Racing, Sprint & Midget Cars, Trucks, Endurance & World Sports Cars, and Motorcycles.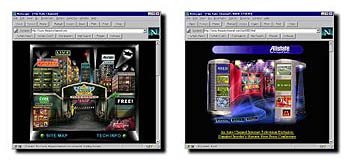 Serving these 18 distinct areas, visitors to The Auto Channel can access the following 16 searchable databases, including new & used vehicle wholesale and retail prices
Thousands of news and feature stories - updated daily and archived indefinitely
Thousands of photographs and graphics
Thousands of on-demand video and audio programs (some 1 to 2 hours in length)
Hundreds of new vehicle reviews for each of the last seven models years - the largest collection of new vehicle reviews on the internet
Live video and audio coverage of major automotive and motor sports events