A DRIVE HOME : LeMay Museum, Tacoma To Detroit Auto Show- Chapter One By Steve Purdy
A DRIVE HOME
Three old cars go from Tacoma to Detroit in the dead of winter
By Steve Purdy
Senior Editor, The Auto Channel
Michigan Bureau
I first learned of this project last summer while doing a story on America's Car Museum in Tacoma, Washington. The concept was so unexpected we hesitated just an instant thinking we had misheard. But, no, we heard right. They will take three old cars, representing the best of Detroit iron from the 50s and 60s, out of their warm safe places in the museum and drive them to Detroit to arrive just in time for the early January opening of the most important motor show in the U.S., the North American International Auto Show. But even more surprising, they will offer a few media folks the opportunity to drive segments of the route.
Of course, my hand went up without hesitation. When I shared the plan with a few colleagues it seemed I was not the only one excited about such an adventure. My friend Bob Giles from Royal Oak, Michigan, publisher of a Website called NewCarNews.tv, was as excited as I. Now we're ready to go and can't wait to share the story.
First a little more background:
America's Car Museum, also known as the LeMay Museum since it grew from the largest private auto collection in the country owned by Harold and Nancy LeMay, opened in 2012 after many years of planning and fundraising. Award-winning architecture and a dozen special displays along with an amazing variety of cars will entertain visitors all day. The dramatic building sits on 10 acres so is amenable to regular use for shows and to offer rides in museum cars for visitors. Part of the philosophy of the museum, as espoused by CEO David Madeira, is that these wonderful old cars need to be driven. They need to be out and about. So here is an opportunity to get them out on the roads – winter roads at that.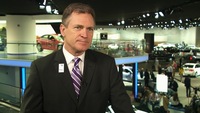 On the museum's steering committee sits Rod Alberts, executive director of the North American International Auto Show in Detroit that traditionally begins the second week of January and draws more media attention than any other U.S. show. Mr. Alberts is always looking for ways to enhance and broaden the auto show's reach. Somehow he and Mr. Madeira cooked up this plan.
The three cars – a 1957 Chevrolet Nomad, a 1961 Chrysler 300G coupe and a 1966 Mustang – will leave the museum on December 27th as soon as the Christmas wrap is in the trash and begin the 2,400-mile journey in 10 segments arriving in Detroit on January 6th or 7th depending on weather and any other unexpected troubles.
Our friend and colleague Bob Giles will attend the start at the museum and drive the first two legs of the journey – Tacoma to Bend, Oregon to Boise, Idaho. Then I will join him in Boise and we'll both drive to Salt Lake City. Then Bob will fly home and I will do the next two legs from Salt Lake City to Grand Junction, Colorado to Lakewood, Colorado near Denver. We arrive in Lakewood on New Year's Eve where the Hagerty Insurance folks are planning a big party.
I'll fly home on New Year's day and the cars will continue their journey for about another week on a leisurely route home under the capable hands of other drivers.
https://www.facebook.com/AmericasCarMuseum/videos/10150578753504970/
Once in Detroit the hoopla will continue. On Friday January 8th they are planning a winter version of the famous Woodward Dream Cruise where enthusiasts can bring their cars out and join with the museum cars on a drive from the suburbs to downtown Detroit along Woodward Avenue. The museum cars will then be on display during the auto show.
Watch this space for regular reports along the way.
ęSteve Purdy, Shunpiker Productions, All Rights Reserved
On The Road With Steve Purdy - From Lemay Museum Tacoma To 2016 Detroit Auto Show
Chapter One - December 28, 2015
Chapter Two - December 29, 2015
Chapter Three - December 30, 2015
Chapter Four - December 31, 2015
Chapter Five - January 2, 2016
Chapter Six Final Chapter - January 10, 2016
SEE ALSO: Official NAIAS Drive Home Coverage +VIDEO