Steve Purdy Report : 2015 C.A.R. Automotive Management Seminars - Day 3
CENTER FOR AUTOMOTIVE RESEARCH
MANAGEMENT BRIEFING SEMINARS 2015
50TH ANNIVERSARY
DAY THREE
By Steve Purdy
Senior Editor
The Auto Channel
Michigan Bureau
Traverse City August 2015; Day three of the Management Briefing Seminars traditionally begins with an address by Michigan's governor Rick Snyder who is proud of being "one tough nerd." After the usual platitudes about the importance of the auto industry to Michigan's economy he announced a new initiative to lure talented youngsters, particularly engineers and high-end technicians, to the state. The inability to train our own people or attract skilled and knowledgeable folks, he said, is a big risk to being able to sustain the state's leadership in the automotive business. So, the governor's economic development office is launching a broad marketing effort called "We run on Brainpower," intended to broadcast a hip message to get their attention. (see Editor note below)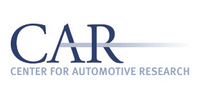 Sandy Baruah, CEO of the Detroit Regional Chamber, told me he too thinks the effort to attract talent to the auto industry, and more broadly to all Michigan businesses, is one of the most important activities to pursue. He cites the retirement of hoards of boomers from the industry in upcoming years. He also thinks the cyclical extremes of the auto business may be mitigated from here forward requiring less worry about diversification of the state's economy. He offered the opinion we heard from some others that taking advantage of our technology resources will translate to progress in other sectors.
We learned today about a partnership between GM and Honda to develop the next generation hydrogen-powered fuel cell vehicle – perhaps the first generation of practical fuel cell vehicles. Both the size and weight of the fuel cell stacks have been cut in half from just a few years ago and the cost, they say, has been reduced by "orders of magnitude." These two companies hold more fuel cell patents than anyone else so their cooperation makes sense. The partnership is important, they say, because of the need to standardize components to support higher volume production.
Johnson Controls announced an expansion of their Toledo battery plant to keep up with demand for start/stop systems that are becoming more in demand in new cars. As we march toward the dreaded 2025 EPA fuel mileage standards every increment of fuel savings becomes crucial. Petar Oklobdzija, the company's VP and general manager of OE business in the Americas, touted a 5% increase in fuel mileage with start/stop. That number is huge as OEM's chase every click in mpg. He also told me about their "absorbent glass mat" batteries. He insists that term is not an oxymoron but a better way of making batteries. We may have more to report from the annual Battery Show in Detroit this fall.
Each year here at MBS we experience less wringing of hands around the EPA's goal of demanding a corporate fleet average of 54.5 mpg by 2025. Christopher Grundler, director for the EPA's Office of Transportation and Air Quality, said that the consternation and worry is for naught, at least for now. For one thing, we learned from other sources, the number is not yet carved in stone as the National Academy of Sciences is doing a midterm review of the first phase of requirements. From that review the EPA boss will determine the actual level. And, a complex regimen of adjustments for market fluctuations, vehicle footprints, environmental credits and other factors may cause that scary number to change. And, we still don't know what the consequences will be for those failing to meet the standards.
We had lunch with some fellas from Honeywell who shared a preview of an engine technology I'd not heard of – one that will likely contribute to our ever-increasing need to wring more efficiency out of our internal combustion engines, be they gasoline (or ethanol Steve) or diesel. Honeywell's core automotive business is turbochargers and what they described to me was what they refer to as e-turbos, that is, turbos that either use electricity to spool up more quickly eliminating dreaded turbo lag, or turbos that actually make extra electricity when spinning full tilt in order to save and use that energy on the tail end of the process. These systems are both currently used on Formula One race cars, in fact, they tell me Honeywell is the official supplier of that technology to the Scuderia Ferrari team and the dominant Audi racing teams at Le Mans. Like other racing technologies these will find their way into mainstream automobiles sooner than we think.
The Federal government sent a dynamic and articulate young man to represent the administration's efforts to support manufacturing in the U.S. and particularly auto manufacturing. Jay Williams is the former mayor of Youngstown, Ohio, the poster town for economic troubles, and he is Assistant Secretary of the U.S. Department of Commerce. Youngstown's economic problems preceded by a decade the general downturn that greeted President Obama when he took office. Mr. Williams also presided over major elements of the auto industry rescue and recovery efforts after the crash. Among other topics, we talked about the U.S. business climate that continues to attract foreign investments from automakers and suppliers from around the world, exemplified by BMW's continuing expansion of the Spartanburg, SC plant.
We've not heard much this week about the SAAR, (Seasonally-Adjusted Annual Rate) of auto manufacturing. Our colleague, David Smith of WardsAuto.com, cornered GM's top economist, Mustafa Mohatarem, after a session and squeezed a revised estimate out of him. Mohatarem said he has revised his estimate upward by half million to 17 to 17.5 million. He also commented that GM, as well as most manufacturers, tend to be conservative in their estimates. We're thinking of an old saw that says: if you line up all the economists in the world end to end, they still wouldn't reach a conclusion.
ęSteve Purdy, Shunpiker Productions, All Rights Reserved
Editor's Note: For the past 18 years the Auto Lab a NYC automotive radio show hosted and founded by Professor Harold Wolchuk has been streamed live and archived here on The Auto Channel. The show is produced is association with Consortium for Automotive Education and its associated community colleges that offer an automotive curriculum, with a mandate to attract potential participants into the automotive industry.
Over the past 11 years we have been trying to partner with an auto manufacturer as an underwriter of the creation and broadcasting of hundreds of local versions of Auto Lab, along with local auto dealer associations in every city that has a participating community college, unfortunately with no success.
We have proposed Auto Lab USA to management of Ford, Chrysler and General Motors with no success, but I am hopeful that the thoughts and words that Michigan's Governor spoke at the C.A.R meeting; "he announced a new initiative to lure talented youngsters, particularly engineers and high-end technicians, to the state", will resonate with at least one executive at a car company who has an understanding of what the industry's lack of action has caused some 11 years later and how it can be ameliorated. If you believe that there is a cure to the auto industries human resource ills and would like to see our proposal for Auto Lab USA just e me at bgordon@theautochannel.com.
CENTER FOR AUTOMOTIVE RESEARCH
MANAGEMENT BRIEFING SEMINARS 2015 Reports
SEE ALSO: Speaker Presentations (PDF)