Make A Difference - Make February 19th Your E30 Day
Here's a great way to support clean air, clean water, energy independence, and reducing respiratory illnesses
By Marc J. Rauch
Exec. Vice President/Co-Publisher
THE AUTO CHANNEL
Tomorrow, February 19th, Glacial Lakes Energy is hosting an E30 Day Rally at the State Capitol building in Pierre, South Dakota. Glacial Lakes is an especially appropriate host for the event because in 2016, they spearheaded the E30 CHALLENGE study that helped to prove that all internal combustion engine vehicles (not just flex fuel vehicles) could safely, efficiently, and economically use a 30% ethanol-gasoline fuel blend...a dramatic increase from the normal E10
10% blend
used around America, as well as a hefty increase from E15.
What's more, the results of the E30 CHALLENGE showed that the 30% ethanol-gasoline blend can provide superior miles-per-gallon than lower ethanol-level blends - something that many ethanol bashers would say defies the "laws of physics." Of course, to those in the know, we know that the BTU-energy content comparison between gasoline and ethanol is simply a ruse used by the petroleum oil industry to paint gasoline as a superior fuel - Engine optimization, not irrelevant energy content BTU ranking, is the principal factor.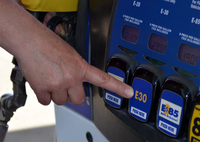 Since that time, when the E30 CHALLENGE results were finalized, E30 has experienced a growing army of satisfied customers who have been filling up on E30 via fuel pumps that specifically provide E30, or by 'splash blending' their own E30 concoctions. For about six years, I regularly filled my 2002 non-flex fuel Ford Taurus with E30 to E40 splash blends and enjoyed excellent results. I achieved MPG performance that was equal to, or better, than using E10; I passed my state's smog tests with flying colors; and I saved money on every gallon of fuel I purchased. As I have done in a number of published articles and public presentations, I recommend that every vehicle owner try their own tests with a gallon or two (and then three, four and more gallons) of E85 at their next fill up.
The results of the E30 CHALLENGE are not as surprising as they may seem. After all, in Brazil, a country with 90 million passenger vehicles that are identical to the vehicles on the road in America and other parts of the world, their everyday standard fuel is E27, and it's expected that Brazil will increase to E40 within the next few years. If a Mercedes, BMW, Audi, Toyota, Kia, and Chevy of any age can reliably run on higher ethanol-level blends in Brazil, they can do the same in every country around the globe.
Tuesday's event, held in conjunction with S.D. Farmers Union Legislative Day, spotlights and celebrates the results of the E30 CHALLENGE. The organizers will meet with state legislators to provide information on E30, the locally grown and manufactured premium ethanol blend, proven safe for use in all vehicles.
The event begins at 9:30 in the Capitol Rotunda in Pierre. At 2 p.m. all are invited to attend the General Legislative Session where a proclamation will be made to make February 19 E30 Day in South Dakota.
"There is no reason to sit around and wait for solutions for farmers to come from D.C. E30 is the homegrown, clean air solution to low commodity prices," said Jim Seurer, CEO Glacial Lakes Energy Cooperative.
Producing more than 250 million gallons of ethanol each year, Glacial Lakes Energy made the decision to advocate for E30 during legislative session 2019 following Governor Noem's State of the State Address promise to fuel up the state's fleet on E30.
"Governor Noem's commitment shows drivers in South Dakota and across the nation our state's confidence in the performance of E30," explained Marcy Kohl, Marketing Director for Glacial Lakes Energy.
"To date, drivers in the Watertown and Aberdeen have put on more than 80 million miles using E30 and there have not been any performance issues," Kohl said. "We track the numbers, and even after the E30 Challenge, we have not seen a decrease in drivers fueling up with E30."
A proponent of the ethanol industry since the beginning, South Dakota Farmers Union has actively advocated for higher ethanol blends for many years, making it a focus of their grassroots state and national policy. So, Seurer says it was only natural to ask if they could join the organization in Pierre.
"Farmers Union has been a strong partner in helping us advocate for higher ethanol blends because it's good for South Dakota's family farmers, ranchers and rural communities. And, let's not overlook the clean air and health benefits," explained Seurer, pointing to a recent study conducted by the consulting group Life Cycle Associates, and commissioned by the Renewable Fuels Association that finds greenhouse gas reductions from the use of biofuels has exceeded what the U.S. EPA has predicted by 37 percent.
For more information about E30 DAY, CLICK HERE.
For more information on tests and studies that verify the results of the E30 CHALLENGE, see the following:
• Effects of High-Octane Ethanol Blends
• Study Finds Certain Ethanol Blends Can Provide Better Fuel Economy Than Gasoline
• The Effect of Ethanol-Gasoline Blends - University of Nottingham...
• The Effect of Ethanol-Gasoline Blends
• High performance Wayne State ethanol car wins 1998 Ethanol Vehicle Challenge
• Freedom of choice: E20 ethanol blends take the value crown from gasoline, E10
• ACE Optimal Ethanol Blend Level Study
For the most complete look at ethanol fuel, please read my 641-page book "THE ETHANOL PAPERS." It's available online, and free to access, by CLICKING HERE