2016 Kia K900 Luxury V6 Sedan Review By Steve Purdy
Over the years I've used some mighty impressive cars for my Concours shuttle job but the K900 seemed to get more enthusiastic comments than most...
2016 KIA K900 LUXURY V6 At The Concours
Review
By Steve Purdy
The Auto Channel
Michigan Bureau
An enjoyable duty of my volunteer responsibilities for the Concours d'Elegance On The Bluff overlooking lower Lake Michigan involves shuttling participating classic and collector car owners from the parking lot where they park their entry carring big rigs back to the show field a few miles away. Since I am an editor for The Auto Channel I have access to lots of different cars, so I always try to obtain a vehicle to evaluate that matches a particular need or project – like this week's Kia K900 luxury sedan.
As the biggest car in Kia's ever expanding fleet, the rear-wheel drive K900 competes in size and purpose with sister Koran carmaker Hyundai's Genesis Equus as well as Cadillac's new CT6, Lincoln's new Continental and more expensive offerings from BMW, Mercedes, Audi, Lexus and Jaguar. The latter European big sedans also offer long wheelbase versions that add another category of rear seat volume altogether.
The K900's styling is conservative but fairly attractive, in my view. It takes queues from the other successful members of the large luxury sedan class, particularly Lexus, and adds some of the Kia family details including a subtler version of the characteristic chipmunk grille. At cursory glance the grille looks much like the big Jaguar sedan's.
The luxurious cabin with huge rear seats and upscale appointments do not disappoint. An analog clock in the center of the horizontally oriented dash compliments other details we expect in a luxury sedan. The wood trim, though overly polished to a plastic-like gloss, still manages to add an ambiance of traditional luxury.
Ergonomics inside are mostly good. I found the controls intuitive for the most part. From a previous review I noted not being fond of the electronic shift control, a large round knob on the console that often had me in a gear I hadn't intended. Either I've become accustomed to that kind of control, or they've improved it because I had no problem this time. In fact, I thought it quite nice. The seats are big and comfortable with just enough lateral support and firmness. The cabin is remarkably quiet even at extra-legal speeds and we hear no wind or tire noise. To their everlasting credit the Kia designers have located the seat adjustment controls on the door panel where they are easy to access.
The K900, and its cousin from Genesis, were designed to be chauffeur driven in Asian markets and its capacious and comfortable rear compartment reflects that purpose. The heated and ventilated rear outboard seats recline but unlike some of the competition have no rear entertainment or seatback trays. Those rear outboard seats have adjustable lumbar supports as well. You'll feel like a potentate sitting back there. A power rear window screen will keep the sun off the back of your neck and the panoramic sunroof will allow you to enjoy the top of the skyscrapers as you cruise through the city.
The K900 is powered by either a 5.0-liter, direct-injected V8 making 420 horsepower and 376 pound-feet of torque, or this new-for-2016 3.8-liter V6 good for 311 horsepower and nearly 300 pound-feet of torque. The V8 remains unchanged and both engines are mated to an 8-speed, shift-by-wire (no mechanical linkage) transmission. Four driving modes vary throttle response, shift points, steering dynamics and a variety of other elements. I didn't find a lot of difference in the modes except acceleration in ?Sport' mode, is much better and quite admirable of a V6 powered, 4,400-pound car. The EPA rates this powertrain at 17 mpg in the city, 26 on the highway and 20 combined on regular fuel– not best in class for V6-powered luxury sedans but some of the others require premium. I managed about 25 for my week of widely varied conditions.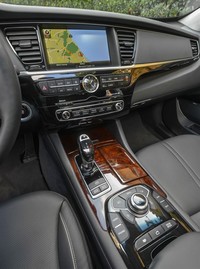 I found the handling and driving dynamics good, though distinctly less crisp than the Germans particularly. In a word "silky." Some other reviewers, I noticed, criticized the K900 for a lack of ride quality over rough pavement. I disagree. Though I didn't experience severe pavement conditions some of my drives this week were on urban surface streets that continue to suffer from Michigan's neglect of highway maintenance. And, that slick 8-speed transmission shifts up or down so smoothly we barely feel the transitions between gears, particularly when using the paddle shifters. Again – silky.
All-wheel drive is not offered with the K900, though here in the northern climates AWD is becoming an expected option for most large sedans
Our test car shows a base price of just under $54,900 including an impressive list of standard content, like: 18-inch alloy wheels, 3-zone climate control, premium sound system, navigation with big 9.2 inch screen, blind spot detection, lane departure warning, front and rear cameras, surround view cameras, premium leather seating and trim, push button start, power adjustable steering wheel, sunshades, power trunk, panoramic sunroof, adaptive LED headlights, and a plethora of other stuff. We have a $5,000 "VIP Package" that includes: adaptive cruise control, rear cross traffic alert, LCD instruments, head-up display, extra seat features front and rear. The bottom line on our sticker shows $66,400. Compare that feature-to-feature with its competitors and you'll be amazed.
Kia's new car warranty covers the whole car for 5 years or 60,000 miles and the powertrain for 10 years or 100,000 miles.
The Kia K900 will satisfy the owner who wants a big and luxurious sedan without drawing attention to him/her self. Upon close inspection it projects an image of heft and quality without an ounce of ostentation.
While I've scored some mighty impressive cars for the Concours shuttle job this one seemed to get more enthusiastic comments than most even though on the cost scale it was probably the least expensive of the bunch.
© Steve Purdy, Shunpiker Productions, All Rights Reserved
LEARN MORE: THE AUTO CHANNEL'S UNBIASED KIA RESEARCH ARCHIVE
Ready To Buy? Get A Better Deal As A FREE-TO-THE-DEALER Unencumbered Buyer