Car of the Week February 12, 2001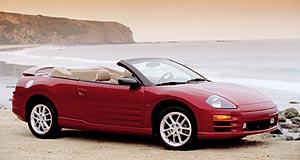 2001 Misubishi Eclipse Spyder -- Following the coupe's edgier transformation in 2000, the popular Spyder was revamped for 2001. Introduced in late spring 2000, the new Mitsubishi convertible is stronger and more spacious than ever before. The new style, engine choices, and creature comforts are meant to appeal to a larger variety of people.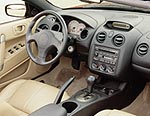 Sans the well-likes turbo engine, the 2001 Eclipse Spyder GT is powered by a 3.0-liter V6 that pumps out 200 horsepower at 5500 rpm with maximum torque of 205 lb-ft at 4000. The GS model has a 2.4-liter that powers 147 ponies and 158 lb/ft of torque with the manual transmission, and 140-hp and 155-lb/ft of torque with the Sportronic system.