Car of the Week February 5, 2001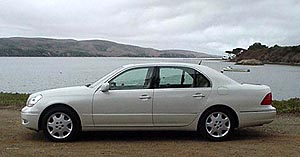 2001 Lexus LS430 -- Over 90% new for 2001, Lexus' flagship sedan is more powerful, quieter, smoother, and more luxurious than ever. Available with three trim levels, the Ultra Luxury Package has left the automotive press drooling -- from pleasure.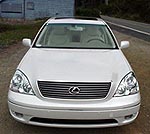 Why? The front has 14-way driver and 10-way passenger, heated, and air-conditioned seats -- while the rear provides a luscious, heated, reclining, massaging oasis, complete with stereo controls and a drink cooler. With a nimble ride, accurate navigation system, and Dynamic Laser Cruise Control as only a few of the features available, the 2001 LS430 continues with Lexus' tradition in setting new luxury standards.