2000 Toyota MR2 Spyder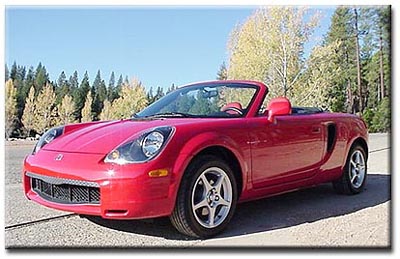 SEE ALSO: Toyota Buyer's Guide
By Larkin Hill
Staff Writer, The Auto Channel
Has a unique exterior styling that's not too cutesy.
Fun to drive! Effortlessly zips through town and snuggles curves.
Lots of headroom, seating position is low and side doors are high.
Interior is stylish and space-efficient.

Small! -- barely enough room for a small gym bag or overnighter in storage area behind the driver & passenger.
Loud -- mid-engine makes listening to radio and talking difficult.
Very rigid suspension -- makes it fun to throw around, but a headache to drive for extended periods of time.
The top took some manual strength to put up and the latches were sometimes tricky-- not advised if you have long fingernails, muscle strains, or broken bones.