2000 Boxster S

When the word Porsche is said aloud, ears perk and eyes sparkle. Some people let the word slowly slip out Poorrrssh-ahhh, and others slur it into one quick Porssh-ah.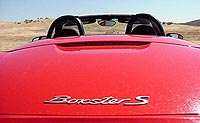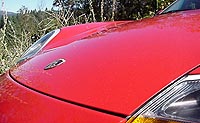 Either way, the "P" word alone conjures up happy fantasies -- only to be left with with the reality that they'll probably never be able to justify the hefty price tag. So, in 1997, Porsche brought out it's pint-sized, less-expensive alternative to the 911 dreamboat; amid great applause the Boxster was introduced. It's roadster lines and more reasonable price enabled many people to justify a Porsche purchase.
However, some still wanted more under their seat. So, for model year 2000, Porsche introduced the Boxster S. The standard Boxster has a 24-valve 2.7-liter flat 6 cylinder engine and the S-version has a beefier 3.2-liter. With .5 more liters under the hood, the power was pumped up from 217 horsepower at 6500 rpm to 250 at 62500 rmp, and torque was increased from 192 to 225 at 4500 rpm, making it a lot more fun at a bit more expensive.
HANDLING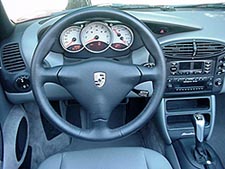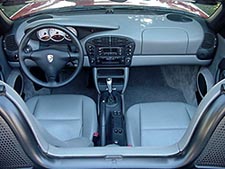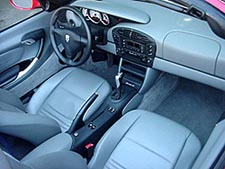 It snuggled the curves, charged the hills, and left me yearning for the German Autobahn. The center mounted engine provided excellent weight distribution while power assisted steering was neat and accurate. It was light, nimble and easily excitable at all speeds. However, on uneven pavement, the stiff suspension and high performance tires made handling a little tricky and very jumpy.
COMFORT
Both passenger and driver space was adequate, provided you're of medium build. Very tall or short people could face some difficulties seeing and adjusting the steering column for ultimate comfort. Regardless of size, viability with the top up was poor.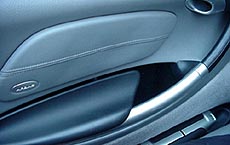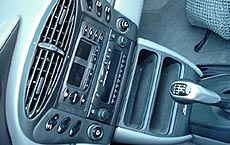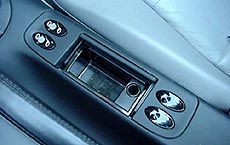 ERGONMICS AND STYLING
While the overall interior design was modern, stylish, and fluid, the materials used were not. The surfaces were very plastic-y and the buttons seemed too shiny. However, I liked the brushed aluminum detail and gray/black combination. The stereo was a comfortable reach, as was air conditioning, but the venting system could be improved with either stronger air force or more outlets.
Because there's no glove box, the pockets within the door, center console, rear shelf, and small spaces under the stereo were the only spaces for "stuff." Only the center console locks and there was very limited space for valuables. The model I tested didn't have cupholders, so my morning wake-up beverage of choice made driving a challenge, and it ended up getting omitted altogether.
The rear convertible "window" was plastic, and as a result, difficult to accurately see through. Porsche has a special cleaning solution for it and the potion is supposed to keep it from looking foggy -- so far as I could tell it worked. However, regardless of how few scratches or "cloudy" patches the rear window panel had, the plastic was still hard to see out of.
SAFETY
Standard equipment included door mounted side impact airbags, four-wheel anti-lock brakes (ABS), and driver and passenger airbags that have a child seat detector that disengages the passenger side airbags in the even of an accident.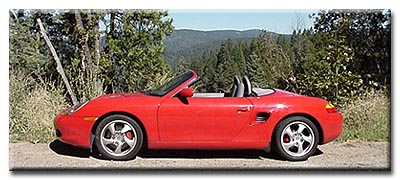 PROS
Distinctive styling from its competitors
Handled like a champ -- true to Porsche's reputation.
The power convertible top quickly glides up and down, without extending very far up, thus making it easy to adjust in a parking garage or under a tree.

CONS
A noisy ride - top up or top down, with and without the expensive optional wind-blocker.
Interior materials could have been of a higher grade. The plastic is very plastic-y and it appeared to scratch easily.
Where were the audio controls??? The stereo system looked cool, but it wasn't very user-friendly.
By Larkin Hill