2000 Nissan Xterra

By Larkin Hill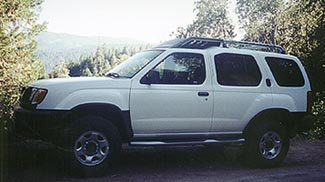 Heavy-duty tubular step rails and matching roof rack with cross bars and storage basket flatter the Xterra's signature split-level roofline. The side-mounted rear door handle is comfortable to grasp and entry into the stadium-style (raised) rear seat is easy.


With a 120-lbs load capacity, the lightweight aluminum "tubular luggage rack" is more fashion than function. In addition, the removable front "gear basket" not only has a load capacity of a mere 30 pounds, but it also blocks the optional "flip-up skyroof."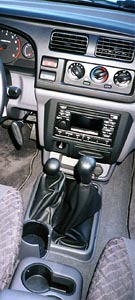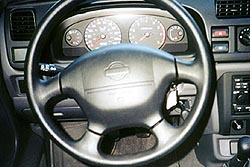 The gauges, knobs, and materials are symmetrical, simple and aesthetically pleasing. The center console comfortably houses two functional cupholders and center armrest with a storage compartment. Especially noteworthy is one cupholder is deep and wide enough to hold a large-size waterbottle with ease while the other fits an average size mug. The dash is stylishly rugged and truck-y.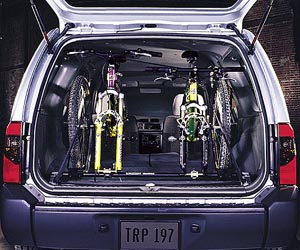 An added safety feature for the active lifestyle is the optional interior bike rack. However, for those who don't mind the reach and/or need the extra interior room, the exterior luggage rack comes equipped with cross bars.