Mitsubishi Montero Sport XLS!

By Larkin Hill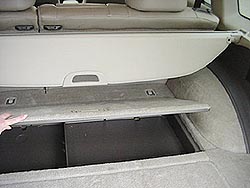 Hidden beneath plush carpet are two concealed cargo-area storage compartments.
A variety of different sized compartments make the "hiding-spaces" ideal for valuables, small tools, or anything else that fits. Bonus: The bottoms of the two covers double as picnic trays -- complete with cupholders!
Located directly under the Infinity audio system is a small space that appears to be made for CD or cassette tape storage. However, both the CD case and individual CD were too large to fit properly and the audio system wasn't equipped with a cassette player, so I'm somewhat confused at its intended purpose.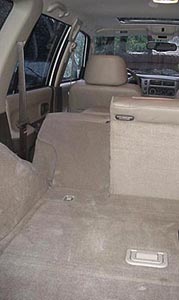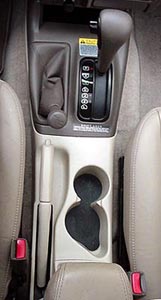 The Reclining 60/40 "fold-flat" rear seats didn't really fold flat, however, we found the center armrest with dual cupholders, and adjustable head restraints to be pleasing. The section between the front seats was spacious and accommodating. The two cupholders were deep enough to safely brace a full cup and ended up doubling as coin-holders by week's end.
Exclusive to the XLS model, integrated fender flares and side steps don the Montero Sport's signature two-tone paint accent in metallic beige. The power glass sunroof is part of the Mitsubishi's Premium Package, while the 220-pound load capacity roof rack and side steps are both dealer-installed options that are part of the Preferred Package.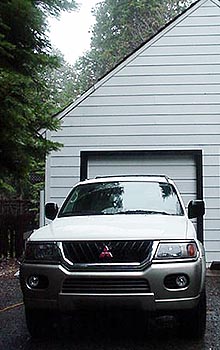 The Montero Sport XLS, powered by an impressively responsive 3.0-liter SOHC 24V V6 with 173 horsepower and 188 lbs./ft of torque, receives my (and my mother's) applause. The XLS carried my family safely (and seemingly effortlessly) from the Sierra Foothills to the San Francisco Airport during one of the harshest storms California has faced this year. The Montero Sport swiftly maneuvered through the rain-drenched San Francisco traffic and provided a high yet sturdy stance -- necessary for waterlogged highway conditions.