New Car Review
1996 TOYOTA TACOMA XTRACAB V6 PICKUP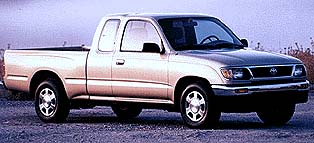 SEE ALSO: Toyota Buyer's Guide
by: CAREY and BILL RUSS
I picked up my test vehicle for this week, a Toyota Tacoma Xtracab pickup with a 3.4-liter V6 engine, at the 47th annual Oakland, California Roadster Show. It was an appropriate venue for two reasons: the truck is built in Fremont, a few miles south of Oakland, and it is Toyota's little hot rod.
Toyota pickups have been sold in the U. S. for nearly as long as Toyota has been here, and were among the first compact pickups to offer features such as extra-length cargo beds, extended cabs, 4-wheel drive, and a wide variety of engines and comfort amenities. High quality and constant improvements have been Toyota hallmarks.
The American pickup market is unique. Here, pickup trucks are not just work vehicles, but are commonly used as car replacements. Not only must American-market pickups perform work duties such as hauling and towing, they must also offer as much comfort and convenience as a modern sedan. The 6th generation of Toyota pickup, named Tacoma, is designed and built with this in mind. It is unique to the North American market, and is very much a California product. Much of the design work was done at Toyota's Calty studio in Newport Beach. The beds are made at TABC in Long Beach, the frames are assembled at a Dana Corporation facility in Stockton, and the trucks are completed at the NUMMI plant in Fremont.
The Tacoma is available in all popular compact pickup configurations from basic 4-cylinder, 2- wheel drive regular cab through V6-powered 4-wheel drive extended cab. Engine choices include 2.4-liter and 2.7-liter 4-cylinder and a 3.4-liter V6. The 2.7-liter four has the power of last year's 3.0-liter V6, and the V6 makes a potent 190 horsepower. An enjoyable week in a V6-equipped extended-cab 2-wheel drive Tacoma showed it to be a quick, useful, and powerful truck.
APPEARANCE: Pickup trucks are no longer only tools for work, so the form-follows-function design of the past is being replaced by carlike styling. The Tacoma is no exception and continues the Toyota style introduced in the T100. The corners are rounded off, the fenders are flared, and character lines break up otherwise flat expanses of sheet metal. The rear portion of the cab of the Xtracab is raised, and it has large, openable quarter windows. The 2-wheel drive model sits as high as some older four-by-fours. My Tacoma had the LX option package, which includes chrome-trimmed grille and bumpers and a sliding rear window. The Tacoma is every bit the contemporary small pickup.
COMFORT: The extended cab configuration is the most popular form for Toyota pickups. This is not surprising. Think of the Xtracab Tacoma as a small car with a really big trunk. For personal use or work, the extra space behind the front seats provides secure storage. Two people can fit in reasonable comfort, at least for short distances. The front passengers are treated to a contoured split bench seat that combines the best features of both bench and bucket designs. The steering column-mounted shift lever for the automatic transmission keeps the floor clear. The dashboard has all basic instrumentation and easy-to-use controls for climate control and sound systems. Outboard front shoulder straps are height-adjustable. A large number of individual and packaged options enable the Tacoma to be tailored to nearly any need.
SAFETY: The Tacoma has a driver's-side air bag, side-impact protection door beams, and 3-point seat belts for all outboard occupants. A load-sensing brake proportioning valve is standard to lessen unloaded rear-wheel lockup, and 4-wheel antilock brakes are available on all models.
ROADABILITY: Because pickups today are called upon to be all things to all people and haul cargo, tow trailers, and be as quiet and comfortable as a family sedan, artful engineering compromise is necessary in suspension design and calibration. The Tacoma has an all new coil spring independent front suspension and a leaf-sprung solid axle in the rear. It is a little bouncy when empty, but has a soft, compliant ride. Soundproofing is very good, and wind, road, and mechanical noise are very low. The Tacoma is as close as small trucks get to feeling like a family car.
PERFORMANCE: The old reliable performance formula is: small vehicle, big motor. The 3.4-liter V6 optionally available in the Tacoma is the same powerplant used in the larger, heavier T100. The Tacoma so equipped is a quick little hot rod. It feels like a shrunken V8 muscle truck, with better acceleration than some sports cars. Towing capacity is a good 5000 lbs. The smooth, fast-shifting dual-mode 4-speed electronically-controlled automatic transmission is a perfect match for the engine.
CONCLUSIONS: Toyota's small pickups have been benchmarks in the class for the past quarter century. The all-new Tacoma continues the tradition with a version available for nearly everyone.
SPECIFICATIONS:
1996 TOYOTA TACOMA XTRACAB V6 4x2
Base Price                              $ 16,388
Price As Tested                         $ 18,310
Engine Size                             3.4 liters / 207 cu. in.
Engine Type                             V6, dohc, 24 valves
Horsepower                              190 @ 4800
Torque (lb-ft)                          220 @ 3600
Transmission                            4-speed EC automatic
Wheelbase / Length                      121.9 in. / 199.0 in.
Curb Weight                             2910 lbs.
Pounds Per Horsepower                   15.3
Ground Clearance                        6.5 in.
Fuel Capacity                           18 gal.
Fuel Requirement                        unleaded regular
Tires                                   P215/70 R14 Firestone Wilderness m+s
Brakes, front/rear                      disc / drum
Suspension, f / r                       independent double A-arm with coil
                                        springs / solid axle with leaf springs
Drivetrain                              front engine, rear wheel drive
                    PERFORMANCE
EPA Fuel Economy - miles per gallon
    city / highway / observed           19/22/20
0 to 60 mph                             7.5 sec
1/4 mile (E.T.)                         16.2 sec
Coefficient of Drag (cd)                .40
Towing Capacity                         5,000 lbs.