New Car Review
1996 OLDSMOBILE LSS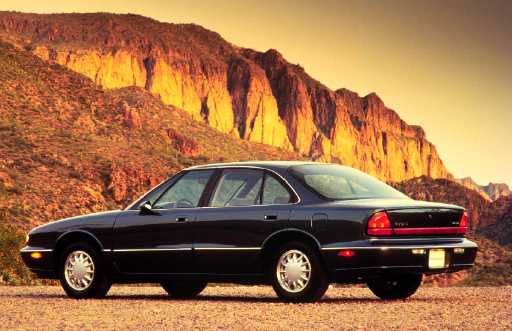 by: CAREY and BILL RUSS
Oldsmobile is undergoing a renaissance. Although the flagship Aurora is the first of a new generation of Oldsmobiles, the existing products are not being forgotten. Closest in intent and performance to the Northstar V8-powered Aurora is the V6-engined LSS. It is more traditional than the futuristic Aurora in both styling and powertrain, but shares a sports-luxury intent. In supercharged form, it is an American gentleman's express, and a thoroughly modern, civilized muscle car.
Originally an option package for the Eighty-Eight, the LSS is now a stand-alone model. Externally, the LSS is best differentiated from the Eighty-Eight by body trim and 5-spoke, 16-inch alloy wheels that give it a look of refined muscularity. Inside, it has a 5-passenger configuration while the Eighty-Eight seats six. Under the skin, there are suspension modifications to give sportier ride and handling characteristics. The Eighty-Eight and LSS share the 3800 Series II V6 engine, but a supercharged version is available in the LSS.
Also offered as an option on the LSS is the Guidestar navigation system. Guidestar combines signals from global positioning system (GPS) satellites with a computerized map and roadway database to accurately tell current position and plot a route to the desired destination. It is controlled by a calculator-like device with a 4-inch liquid crystal screen. It is no substitute for the knowledge of a good cab driver, but it beats attempting to read a map while driving. It can quickly recalculate a route if the driver gets off the recommended route. The screen displays map information, and a synthesized voice gives directions. It is expensive and all parts of the country are not yet in the database, but promises to be a greater asset in the not-too-distant future, and is good for travelers now.
A week spent driving the LSS on highways and byways from sea level to a mile in elevation showed it to be a comfortable and quick machine with surprisingly good fuel economy.
APPEARANCE: The front panel of the LSS has been subtly restyled for 1996. The D-shaped split grille and multi-beam faired headlights are shared with the Eighty-Eight, as is the chrome-trimmed lower body cladding. The LSS alone has fog lights in the air intake below the front bumper and 16- inch, 5-spoke alloy wheels. The body is basically wedge-shaped, rounded, but not to extremes. A passenger cabin with large windows and narrow or blacked-out pillars gives the LSS a light, airy appearance. It is a tasteful design.
COMFORT: For 1996, the LSS gets seating that incorporates Aurora designs. The front buckets are very good, and the rear bench has the sort of leg and head room available only in a big car. A ski pass-through for the rear seat is new this year. The LSS offers great value in a luxury car, comprehensively equipped with leather seating surfaces, a rear-seat armrest with internal storage space, separate climate controls for driver and front passenger, a good 6-speaker AM/FM/cassette sound system, power-operated door locks and windows, auxiliary controls for sound and climate control systems mounted on the steering wheel, an electrochromic mirror, and more luxury and convenience features. The only options are a CD player, cloth trim, an engine block heater, and a power-operated sunroof.
SAFETY: The 1996 Oldsmobile LSS has standard dual airbags, antilock brakes, traction control, child- safety door locks, daytime running lights, and a very good horn. ROADABILITY: The LSS shows just how far the full-sized American car has come towards world- class ride and handling. It feels very much like the more expensive European cars, with a soft, controlled ride. It is an excellent highway cruiser, with low levels of wind, road, and mechanical noise. It is a big car for narrow secondary roads, but handles them with aplomb. It is a gentleman's express, biased toward fast, comfortable touring.
PERFORMANCE: "Rocket Power" is an old Oldsmobile advertising slogan. It certainly applies to the LSS, especially in supercharged form. Supercharging means no power loss at high altitudes and seamless power on demand, with no turbo lag. Driven moderately, the LSS gets very good fuel economy, especially considering that it is a full-sized car. When extra power is needed for passing or merging, press down on the gas pedal and it is right there. The 4-speed electronically-controlled automatic transmission shifts quickly and smoothly and is a perfect match for the engine.
CONCLUSIONS: The Oldsmobile LSS combines performance, comfort, handling, and spaciousness in a way that makes it an American gentleman's express.
SPECIFICATIONS:
1996 OLDSMOBILE LSS

Base Price                              $ 26,010
Price As Tested                         $ 27,622
Engine Type                             V6, ohv, 12 valves
Horsepower                              240 @ 5200
Torque (lb-ft)                          280 @ 3200
Transmission                            4-speed EC automatic
Wheelbase / Length                      110.0 in. / 201.6 in.
Curb Weight                             3502 lbs.
Pounds Per Horsepower                   14.6
Fuel Capacity                           18.0 gal.
Fuel Requirement                        unleaded premium
Tires                                   P225/60 R16 Goodyear Eagle GA
Brakes, front/rear                      vented disc / drum, 4-wheel antilock
Drivetrain                              front engine, front wheel drive
                    PERFORMANCE
EPA Fuel Economy - miles per gallon
    city / highway / observed           17/27/25
0 to 60 mph                             8.0 sec
1/4 mile (E.T.)                         16.9 sec
Coefficient of Drag (cd)                .31