New Car Review
1996 HONDA CIVIC DX HATCHBACK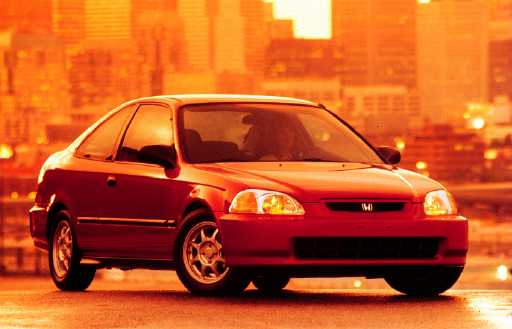 by: CAREY and BILL RUSS
SEE ALSO: Honda Buyer's Guide
Honda made its reputation in the American automobile marketplace with the first Civic in 1973. That economical little hatchback was a revolutionary piece of engineering. Conventional wisdom said that the emissions standards of the day could not be met except with complex, expensive, power- robbing hardware. Honda proved conventional wisdom wrong. In a radical departure from established engine design, Honda engineers used the "compound vortex combustion chamber" to promote more thorough burning of the fuel, producing lower emissions levels and better fuel economy. No expensive catalytic converter was necessary and the car ran on the least expensive leaded regular gas. There have now been five additional generations of Honda Civics since 1973, with sedan and coupe body styles becoming available in addition to the original hatchback. The Honda model line has also grown to include many other models, and cars have been made at production facilities in Ohio since 1982.
With the introduction of the sixth-generation Civic, Honda has done it again. In typical fashion, development work on the new Civic was started shortly after the introduction of its predecessor. Honda has poured much engineering effort into meeting the stringent emissions standards of the late twentieth century. That effort has paid off. While conventional wisdom said that California Air Resources Board "Low Emissions Vehicle" status could only be met with electric or hybrid power, Honda has met that standard with a gasoline-burning engine that is eminently driveable. Fittingly, this powerplant is the standard engine in most of the Civic line. We drove a Civic DX hatchback for a week and found it to be smooth, quiet, refined, and economical, with very good power and handling. It puts some amazing technology in an unassuming package.
APPEARANCE: All 1996 Civics have been subtly restyled, with new hoods, headlights, and taillights. At first glance, the hatchback looks little different from last year's model. The Acura-style grille and character lines in the hood are new, as are the plastic-covered multi-bulb headlights. At the rear, the 1996 hatchback may be distinguished by large wraparound taillights. The steeply-raked hatch has a prominent brow at the top for improved aerodynamics. Bumpers are body-colored, and the perforated disc wheels give the Civic DX hatchback a very European look. COMFORT: A slightly longer wheelbase gives the 1996 Honda Civic hatchback more interior room than previous models. Inside, the Civic DX hatchback is every bit a Honda. Fit and finish are first- rate, and the choice of materials and detail features are very good. "Corner cutting" is not in the Honda vocabulary. The front seats are quite comfortable. Hatchback rear seats are often used more for cargo than people, and that of the Civic DX has a 60/40 fold-down feature for versatility. Door panels are sculpted for increased shoulder room, and the glove box and other storage areas are larger. The redesigned instrument panel presents all necessary information. The standard AM/FM radio has good reception and sound quality. Changes is chassis design, aerodynamics, and soundproofing make the Civic hatchback as quiet as some more expensive cars.
SAFETY: The Civic chassis is designed with front and rear crush zones and side-impact door beams. Dual air bags are standard equipment. ROADABILITY: Ride and handling qualities of the Civic DX are far above what was once the standard for low-priced hatchbacks. There is no highway choppiness or harshness on poorly-paved roads. Thank the new, more rigid chassis structure and redesigned fully-independent suspension for that. Noise, vibration, and harshness have been reduced to make the Civic hatchback very smooth and quiet. It is easily maneuverable for safe hazard avoidance or backroad pleasure.
PERFORMANCE: The first Honda Civic proved that low exhaust emissions and reasonable performance were not mutually exclusive. Likewise for the new Civic, only more so. The 1.6-liter single overhead cam, 16-valve 4-cylinder engine makes 106 horsepower for spirited performance and is the first gasoline engine to receive "low emissions vehicle" certification from the California Air Resources Board. Our hatchback was equipped with the optional 4-speed automatic transmission. It uses the "Grade Control Logic" software developed in the upscale Acura line to shift smoothly, quickly, and quietly, with excellent performance.
CONCLUSIONS: The 1996 Honda Civic DX hatchback is every bit the modern version of the original Civic of 1973. Both proved that emissions standards of their days could be met with no sacrifice in performance or driving ability.
SPECIFICATIONS:
1996 HONDA CIVIC DX HATCHBACK
       Base Price             $ 12,250
       Price As Tested        $ 13,478
       Engine Type            sohc inline 4, 16-valve, mpfi *
       Engine Size            1.6-liter/96 cu. in.
       Horsepower             106 @ 6200
       Torque (lb/ft)         103 @ 4600
       Wheelbase/Length       103.2" / 164.5"
       Transmission           four-speed electronic automatic
       Curb Weight            2317 lbs. 
       Pounds per Horsepower  22
       Fuel Capacity          11.9 gal. 
       Fuel Requirement       Unleaded regular (87 oct)
       Tires                  Dunlop all-season P175/70 R 13 
       Brakes                 vented disc / drum
       Drive Train            front engine/front drive
       
       mpfi - multi-point electronic fuel injection
       
                    PERFORMANCE
       
       EPA Economy - miles per gallon
         city/highway/observed     29/36/32
       0 to 60 mph                 9.0 sec.
       1/4 mile (E.T.)             16.5 sec
       Coefficient of Drag.        .32