New Car Review
1996 TOYOTA PASEO TWO-DOOR SPORT COUPE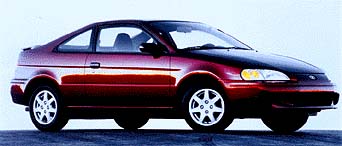 by: CAREY and BILL RUSS
SEE ALSO: Toyota Buyer's Guide
Back in the days before the advent of sport-utility vehicles as luxury-performance-image flagships, sports cars filled that role. As comfort, refinement, and protection from the elements became important, convertible sports cars transformed into closed sports coupes. To reflect the status of the expensive, high-performance sports coupes, and to sell more cars, more reasonably priced varieties were made. They combined basic transportation functions with sporty styling, nimble handling, and good performance at an affordable price.
It seems so long ago, now. So many sports cars and coupes are disappearing. But there are a few left. Consider the Toyota Paseo. In mid-1991, Toyota introduced the Paseo as a replacement for the discontinued Corolla GTS. Based on the Tercel subcompact sedan, but with its own styling and a more powerful engine, the entry-level Paseo was meant for people with a "young, fun" attitude and a young budget. The Paseo was a stylish, frugal, fun sports coupe that combined spirited performance with economical operation.
The Tercel was restyled last year, and got a new engine and some suspension refinements as well. Not surprisingly, the Paseo gets the same treatment for 1996. All body panels and the interior are new. Window area is larger, increasing visibility. Aerodynamic improvements decrease wind noise and sensitivity. The 1.5-liter four-cylinder engine found in the newest Tercel is also found under the hood of the Paseo. We tried one for a week and found it to be a well-made, comfortable, good- handling car with a surprising amount of practicality.
APPEARANCE: Toyota has started more than a few styling trends in its time, but also has shown that it is no slave to them. The new Paseo is a good case in point. Its cousin, the Lexus coupe, started trends towards rounded styling and separate projector-beam driving lights that were picked up by many other car companies. Even the Toyota Celica, the Paseo's big brother, shows these influences. The 1996 Paseo does not. It is leaner, crisper, and more angular than its predecessor, with thinner roof pillars and more glass area for better visibility. It is decisively a Toyota in appearance.
COMFORT: The interior of the 1996 Paseo is very appropriate for a modern entry-level sports coupe. It is sportingly spartan with contemporary colors, accents, and materials. Fit and finish is traditional Toyota - excellent. Black on white background instruments lend a dash of tradition. The instrument panel has been lowered for improved forward visibility, and radio and ventilation controls repositioned for better access. The front seats are supportive and comfortable. Rear seat passengers have their own storage spaces and cupholder, but rear seat passengers had better be short, as headroom is limited. The Paseo is a sports coupe, which means the rear seat is best used for cargo, and it folds down for trunk access and extra capacity. Air conditioning, power windows and door locks, cruise control, and a sunroof are all optionally available.
SAFETY: The new instrument panel in the 1996 Paseo has dual airbags. Door reinforcement meets Federal 1997 side-impact standards. Antilock brakes are optional. ROADABILITY: Part of the fun of a sports coupe is agile handling, and the Paseo plays the part well. It is an enjoyable car on a twisting road, and its good handling characteristics make for added safety in emergency maneuvering situations. Torque steer, often a problem in sporty front-wheel drive cars, is not a problem here. Ride comfort is not compromised for handling, and good shock damping, low levels of wind noise, decent soundproofing, and good luggage capacity for two make the Paseo a good highway cruiser or commuter.
PERFORMANCE: The 1.5-liter four-cylinder engine in the 1996 Paseo is shared with the Tercel sedan. In typical Toyota fashion, it is a modern dual overhead cam, 16-valve design. Also in typical Toyota fashion, it is tuned for torque and flexibility rather than absolute maximum power. This makes the Paseo work as well with the four-speed automatic transmission as with the five-speed manual. Years ago, a small engine matched with an automatic transmission was an invitation to performance disaster. No longer it that true. The latest Paseo is a practical, civilized sports coupe.
CONCLUSIONS: Entry-level sports coupes are getting hard to find these days. The latest Toyota Paseo combines style, handling, and performance with comfort and practicality to make it a good choice for sports coupe aficionados on a budget.
SPECIFICATIONS:
1996 TOYOTA PASEO TWO-DOOR SPORT COUPE
       Base Price             $ 13,838
       Price As Tested        $ 16,533 
       Engine Type            I-4, dohc, 16 valve, efi
       Engine Size            1.5 liter/90 cid    
       Horsepower              93 @ 5400
       Torque (lb/ft)         100 @ 4400
       Wheelbase/Length       94"/164"
       Transmission           four-speed electronic automatic w/od
       Curb Weight            2140 lbs. 
       Pounds per Horsepower  23.0
       Fuel Capacity          11.9 gal. 
       Fuel Requirement       Unleaded regular (87 oct)
       Tires                  P185/60 R 24 all-season 
       Brakes                 disc/drum - ABS optional
       Drive Train            front engine/front drive
       
                    PERFORMANCE
       
       EPA Economy - miles per gallon
         city/highway/observed     28/34/30.2
       0 to 60 mph                 10.0 sec.
       1/4 mile (E.T.)             17.3 sec
       Coefficient of Drag.        .31