New Car Review
1996 OLDSMOBILE AURORA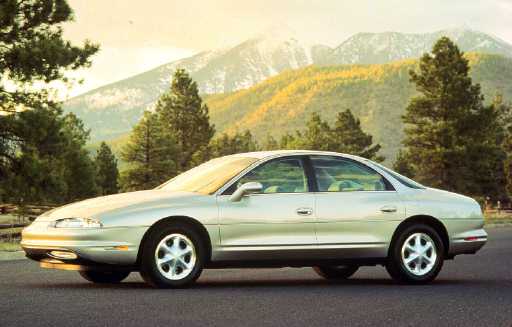 by: CAREY and BILL RUSS
Oldsmobile has a long, proud history, dating back almost one hundred years. Performance and technical innovation have been company hallmarks for much of that time. Oldsmobile had General Motors' first production automatic transmission in 1938. The Rocket V8, introduced in 1949, was one of the earliest modern mass-produced overhead-valve V8 engines and did much to establish a performance image for the marque. The 442 muscle car of the late 1960s is much sought after by collectors, and the Toronado sports coupe of that same period was the first high-powered front-wheel drive car with an automatic transmission. Despite this heritage, the company's image and mission got more than a little diffuse in the 1980s. Major changes occurred when John Rock took the helm in 1992. Under Mr. Rock's leadership, Oldsmobile has rebounded. It has developed the comprehensive "Centennial Plan", covering all aspects of automotive planning, manufacture, training and sales. The goal of the plan is to develop new models that are international in focus, distinctive from other GM divisions, incorporate the latest technology and, most importantly, appeal to people who now buy medium and high-priced imported cars. The Aurora luxury sedan is the first fruit of the Centennial Plan.
The Aurora is the car that will take Oldsmobile into the 21st century. It is a sporting luxury sedan that utilizes state-of-the-art technology and futuristic styling to make a strong statement. It is very much a product of Oldsmobile's past and future.
APPEARANCE: To say that the Aurora is distinctive is understatement. It is a futuristic four-door, five-passenger sedan for people who don't think that a sedan has to look stodgy. It is a large car, but the curvaceous styling makes it look considerably smaller. The early design phase of the Aurora utilized a lot of input from potential customers. They wanted a car with distinctive styling, powerful lines, and understated elegance. They got what they wanted. The Aurora will not be mistaken for anything else. From the front end, with a ventral air intake and no traditional grille, to the tail, highlighted by a full-width light panel, hardly a straight line is to be found. Is it merely coincidence that "Aurora" is also the code name for the Air Force's newest experimental airplane?
COMFORT: The Aurora was designed to be an upscale import fighter. This intention shows as well inside as out. Interior accommodations and style are closer to European than is traditional in an American luxury car, with firm leather-faced power-operated seats, a functional instrument panel with auxiliary controls angled toward the driver, and a tasteful amount of walnut trim. Quality sound is delivered throughout the cabin by a Bose Acoustimass sound system that features AM/FM/cassette and a trunk-mounted 12-CD cartridge changer. The quiet climate control system has controls for each side of the cabin, as well as rear seat ducting. Other amenities include steering wheel-mounted remote controls for sound and temperature, power windows, side mirrors and locks, front and rear cupholders, a multi-function trip computer and message center, a rear seat armrest pass-through to the large low liftover trunk.
SAFETY: The Aurora has been designed and produced with total safety in mind. Total safety encompasses accident avoidance, occupant protection and anti-theft features. Built-in safety starts with a structurally sound design that provides a stable platform for suspension and comfort equipment, as well as front and rear crush zones. Additional safety items include four-wheel anti-lock disc brakes, new PASS-Key and PASS-Lock security systems, new daytime running lights and much more.
ROADABILITY: The Aurora's American heritage is apparent on the road. Its suspension calibration may be softer than some of the other domestic and imported sports-luxury cars, but it provides a comfortable ride with good control. It is a good highway machine, and also handles secondary roads well. The Aurora is a very pleasant car to drive any distance.
PERFORMANCE: The Aurora uses a 4-liter version of GM Powertrain's high-tech dual overhead cam V8 that produces 250 horsepower. It is smooth, quick, and quiet, with just the right amount of V8 growl on acceleration. The 4-speed electronically-controlled automatic transmission shifts very quickly and smoothly. The Aurora is a world class car under the hood.
CONCLUSIONS: The Aurora is the Oldsmobile of the future, designed to meet and beat the world's performance-oriented luxury sedans on their own terms. It owes nothing to the past at Oldsmobile except maybe the spirit of the equally revolutionary 1966 Toronado.
SPECIFICATIONS:
1996 OLDSMOBILE AURORA

       Base Price             $ 34,360 
       Price As Tested        $ 36,100.
       Engine Type            V-8, dohc - 32v, smpfi
       Engine Size            4.0 liter/244 cid   
       Horsepower             250 @ 5600
       Torque (lb/ft)         260 @ 4400
       Wheelbase/Length       114"/205"
       Transmission           four speed electronic automatic w/od
       Curb Weight            3970 lbs.
       Pounds per Horsepower  15.9
       Fuel Capacity          20.0 gal.
       Fuel Requirement       Unleaded premium (92 oct)
       Tires                  Goodyear Eagle GA P235/60R16
       Brakes                 vented disc/disc, 4-wheel ABS standard
       Drive Train            front engine/front drive
       
                    PERFORMANCE
       
       EPA Economy - miles per gallon
         city/highway/observed     17/26/20.7     
       0 to 60 mph                 8.2 sec.
       1/4 mi (E.T.)               16.1 sec.
       Coefficient of Drag  (Cd)   0.32