1996 Acura TL 2.5 Four-Door Sedan Review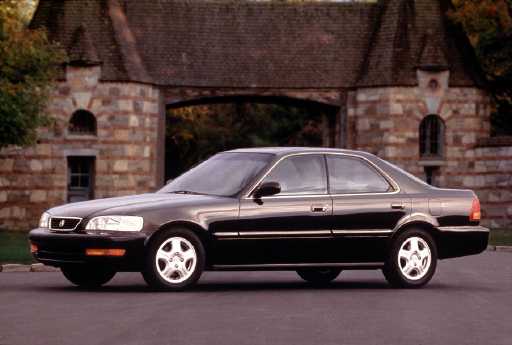 by: CAREY and BILL RUSS
SEE ALSO:Acura Buyer's Guide
Acura was the first Japanese luxury marque. It is the upscale division of Honda, and its first offering, the Legend sedan, was introduced in 1986. The V6-powered Legend was soon followed by an entry-level series of four-cylinder sedans and coupes, the Integra. An exotic, high-performance sports car, the NSX, became available in 1991. As the Legend increased in price, the gap between it and the Integra became wide enough to receive the five-cylinder Vigor in 1992, and the original Acura lineup was complete.
With the exception of the NSX sports car, all Acura automobiles have previously received names. In a major philosophical change of direction, new Acura products will have alphanumeric designations in order to better emphasize the Acura nameplate. The first model for this new era of Acura cars is the TL, a mid-size four-door sedan positioned in the highly competitive entry-level luxury-car market. TL stands for touring luxury. It replaces the Vigor and is available in forms: the 2.5 TL, powered by a 2.5 liter inline 5-cylinder engine, and the 3.2 TL, which uses a 3.2 liter V6 powerplant.
We tested a 2.5TL for a week and found it to be a solid and luxurious automobile.
APPEARANCE: The 2.5TL displays contemporary luxury styling. It bears a strong family resemblance to the Legend. With a monochrome paint finish and a modest amount of brightwork for highlights, it is subtle and conservative. The front-end is dominated by a trapezoidal grille and large wrap-around light clusters. Its sides are slightly rounded and protected by body-colored side rub strips. Distinctive alloy wheels and touring tires, plus a glass sunroof add to the sportiness of the 2.5 TL.
COMFORT: Our 2.5 TL was fitted with the Premium Package, that adds a higher level of equipment including leather upholstery, a sunroof and more. Standard equipment consists of power steering, windows, locks and side mirrors, an adjustable leather covered steering wheel with cruise controls, and a wood-trimmed dashboard. The seats are firm and supportive. The climate control system is easy to operate and it quietly distributes hot or cold air as needed throughout the cabin due in part to under- seat ducting. A complete eight speaker AM/FM/CD/cassette sound system provides good audio fidelity.
SAFETY: This newest Acura is equipped with all of the modern safety features required by law and demanded by customers. Dual front airbags, four-wheel anti-lock disc brakes, front and rear crumple zones, side impact door beams, child-proof rear door locks and a theft deterrent system are all standard features. Also, all outboard seats have three-point seat belts, and those in front have adjustable shoulder strap height.
ROADABILITY: Driving the 2.5 TL is a pleasant experience. The chassis has a relatively long wheelbase, Acura's time-proven double wishbone independent suspension, and front and rear stabilizer bars to ensure a soft, well-damped, ride. The 5-cylinder engine has electronically-controlled hydraulic engine mounts for silky smoothness. Noise levels are low. All around vision is excellent. Speed-sensitive power-assisted rack and pinion steering, plus four-wheel anti-lock disc brakes enhance handling and accident avoidance.
PERFORMANCE: The 2.5TL is powered by an unusual engine, a 176 horsepower aluminum alloy five-cylinder unit with programmed fuel injection, a two-stage intake manifold, and a single overhead camshaft operating four-valves per cylinder. It is mounted longitudinally in the chassis for optimum weight distribution, and tilted 35 degrees for a lower center of gravity and lower hoodline. It drives the front wheels through a four-speed electronically-controlled automatic transmission that utilizes the Grade Logic Control system, which utilizes fuzzy logic to reduce gear hunting during uphill and downhill driving. The engine's power and torque characteristics are well-matched to the transmission's gear ratios, and the transmission shifts quickly, reasonably smoothly, and quietly.
CONCLUSION: Acura's new TL series foreshadows future offerings from the first of the Japanese luxury car makers, and bodes well for the marque. It offers excellent comfort and convenience, and purposeful performance and handling in a smooth, well-designed package.
SPECIFICATIONS:
1996 ACURA TL 2.5 FOUR-DOOR SEDAN
Base Price
$ 29,950
Price As Tested
$ 30,478
Engine Type
I-5, sohc - 20v, mpfi
Engine Size
2.5 liter/150 cid
Horsepower
176 @ 6300
Torque (ft/lbs)
170 @ 3900
Wheelbase/Length
112"/192"
Transmission
four speed automatic w/overdrive
Curb Weight
3290 lbs.
Pounds per Horsepower
18.7
Fuel Capacity
17.2 gal.
Fuel Requirement
Unleaded premium (96 oct)
Tires
Bridgestone Potenza P205/60HR16 m+s
Brakes
vented disc/disc, ABS standard
Drive Train
front engine/front drive
PERFORMANCE
EPA Economy - miles per gallon
city/highway/observed
20/25/21.4
0 to 60 mph
9.3 sec
1/4 mi (E.T.)
17.4 sec
Coefficient of Drag (Cd)
0.35