New Car Review
1996 PLYMOUTH VOYAGER SE MINIVAN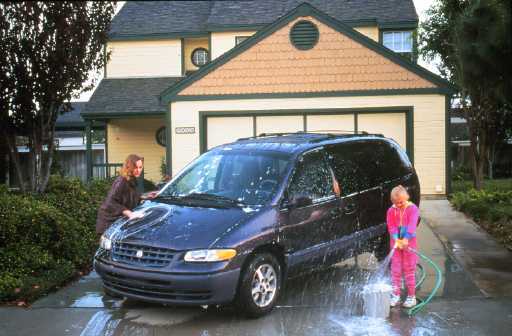 by: CAREY and BILL RUSS
Minivans may have recently been taking some static from trendy sport-utility drivers and even some segments of the automotive press. So what? Many buyers, and Chrysler Corporation, inventor of the modern front-wheel drive, car-based minivan, still believe in the concept. Chrysler has introduced a completely redesigned, second-generation line of minivans for 1996. These sleek new models are available under three nameplates - Plymouth Voyager, Dodge Caravan and Chrysler Town & Country - with a wide variety of drivetrain and chassis configurations. They cover the gamut from basic entry-level to top-of- the-line luxury limo-minivan.
When the first-generation Voyager and Caravan debuted in the 1984 model year, the minivan was a brand-new segment in the American automotive scene. Here was a garagable alternative to the full-size van or station wagon that could seat up to seven adults and have room left over for their luggage. It was based on a front-wheel drive automobile chassis and offered utility and interior room without the noise and harshness of a truck. The Voyager and Caravan were an immediate success. Other manufacturers scrambled to introduce their own variations on the theme, but Chrysler was adept at staying a step ahead. Engines, transmissions, and chassis components were constantly refined. In 1987, the long-wheelbase Grand Voyager and Grand Caravan appeared. 1991 saw a minor restyling and the availability of anti-lock brakes. The 1996 minivan is a major redesign, and with its new styling and high level of equipment and accessories it should remain in its well-deserved top market position.
APPEARANCE: The new Voyager SE has a softer and more rounded look than its predecessor. No longer boxy, it is now more streamlined and stylish. In the center of the new egg-crate grille a revised design of the old Plymouth sailboat logo replaces the former Pentastar. From the side the tinted window glass appears to be an unbroken line from the windshield to the rear window. An optional left-side sliding passenger door is an industry first. A variety of wheels and tires are available, and our SE displayed Goodyear Conquest tires mounted on steel wheels with ABS plastic covers.
COMFORT: Our Voyager SE was a step above the base version, and it took us every where we went with comfort and practicality. Our method of testing was a little different from the usual. To test its usefulness in a family setting, the senior editor and his wife, daughter and two grandchildren used it for daily transportation. This proved to be a real test of vehicle and family. People and minivan made it through the week with flying colors. All seats were reasonably comfortable, and the driver's was manually height- adjustable. The optional left side sliding door was very useful. It is easy to reconfigure the back two rows of seats as they are designed to unlock and roll out for storage elsewhere. The front passenger seat has a large lockable storage drawer beneath it. Besides these new amenities ours came equipped with a seven-speaker AM/FM/cassette radio, a heater/air conditioner with dual temperature control, cruise control and more. Chrysler has done a beautiful job of comfort and convenience packaging.
SAFETY: The 1996 Voyager has dual front airbags, adjustable-height front shoulder harnesses, with seat belts attached to the seat frame, side door beams for impact absorption, a front crumple zone, a collapsible steering column, and child safety seats.
ROADABILITY: Even with the optional driver's-side sliding door, the chassis is stiffer for improved ride, handling, and noise control. During our test these improvements were very noticeable. The ride is firm but smooth on a variety of road surfaces. Braking is excellent due to four-wheel anti-lock brakes, while a larger windshield and side windows greatly improve visibility. For better maneuverability in parking, the front wheels can turn more sharply.
PERFORMANCE: Our Voyager SE was equipped with the 3.3 liter, overhead valve V6 engine that develops 158 horsepower and 203 lb-ft of torque. When delivered to the front wheels via a four-speed electronically-controlled automatic transmission there was enough performance, even when fully loaded, to climb highway grades with a minimum of downshifting, and keep up with the traffic flow. City driving presented no problems.
CONCLUSIONS: The second generation of the Voyager SE is truly as innovative as the original 1984 model. Many improvements have been made, and the new 1995 Chrysler mini-vans should continue to stay a step ahead of the competition.
SPECIFICATIONS:
1996 PLYMOUTH VOYAGER SE MINIVAN

       Base Price             $ 19,415     
       Price As Tested        $ 21,150
       Engine Type            V-6 ohv - pushrod, smpfi
       Engine Size            3.3 liter/202 cid 
       Horsepower             158 @ 4800
       Torque (ft/lbs)        203 @ 3250
       Wheelbase/Length       113"/186"
       Transmission           four speed automatic w/overdrive
       Curb Weight            3700 lbs.
       Pounds per Horsepower  23.4
       Fuel Capacity          20.0 gal.
       Fuel Requirement       Unleaded regular (87 oct)
       Tires                  Goodyear Conquest   P215/65R15 m + s
       Brakes                 vented disc/drum, ABS standard
       Drive Train            front engine/front drive
       
                         PERFORMANCE
       
       EPA Economy - miles per gallon
         city/highway/observed     18/23/18.7     
       0 to 60 mph                 11.4 sec  
       1/4 mi (E.T.)               18.5 sec  
       Coefficient of Drag  (Cd)   0.35