The Editor's Test Drives
The World's Only Live In-Car New Vehicle Evaluations!

with Mark Fulmer
Editor-In-Chief, The Auto Channel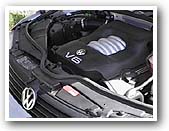 Beneath its logo-clad cover lurks the sneaky V6 of the 1999 VW Passat - with enough grab and go to satiate accelerated desires - add remarkable noise reduction, absolute killer handling, and a clutch so smooth it would bring a smile to the lips of Mr. Jack Daniel himself - and you've got a real driving sensation.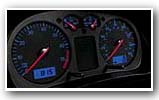 When the sun goes down the Passat's dash lights up in a very cool cobalt blue. Couple that with the red needle and peripheral vision reading of the tach is a breeze.. .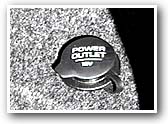 How about a power plug in the trunk? Very interesting...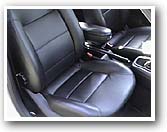 The Passat's interior is a symphony of black leather and burled wood and the highly adjustable seats will give comfortable support to both your teble and bass clefs.
And don't forget that while you're listening to the Test Drive you can also check out the complete specifications from TACH's supercharged search engines and comprehensive databases!

Click here for 1999 Editor's Test Drives
Click here for 1998 Editor's Test Drives
Click here for 1997 Editor's Test Drives