The Editor's Test Drives
The World's Only Live In-Car New Vehicle Evaluations!

with Mark Fulmer
Editor-In-Chief, The Auto Channel
Who says a minivan has no pep? Not the 1999 Honda Odyssey with its V6 VTEC powerplant you can move right out, even fully loaded...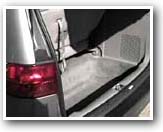 and the very useful sunken well in the rear is also the hiding place for the "disappearing" Magic Seat...
and the features of the interior are so well thought out, so logical, you'd think it was designed on Vulcan...
And don't forget that while you're listening to the Test Drive you can also check out the complete specifications from TACH's supercharged search engines and comprehensive databases!

Click here for 1999 Editor's Test Drives
Click here for 1998 Editor's Test Drives
Click here for 1997 Editor's Test Drives