The Editor's Test Drives
The World's Only Live In-Car New Vehicle Evaluations!

with Mark Fulmer
Editor-In-Chief, The Auto Channel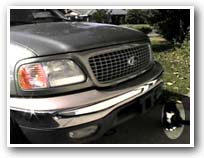 Sitting calmly next to the 1999 Ford Expedition - with its redesigned grill, is my test drive assistant, Boo, who has decided that's it's his job to test each hood on every vehicle in the press fleet for "sleepability." So far he hasn't mustered enough energy to attempt a landing on the Expedition's hood...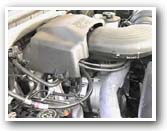 meanwhile, under that hood rests a bigger V8 awaiting a boat to pull or a soccer team to transport...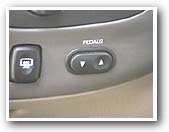 and for drivers of all leg-lengths, here's a nifty addition: automatic pedal height adjustment...
And don't forget that while you're listening to the Test Drive you can also check out the complete specifications from TACH's supercharged search engines and comprehensive databases!

Click here for 1999 Editor's Test Drives
Click here for 1998 Editor's Test Drives
Click here for 1997 Editor's Test Drives