The Editor's Test Drives
The World's Only Live In-Car New Vehicle Evaluations!

with Mark Fulmer
Editor-In-Chief, The Auto Channel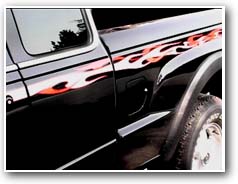 Hey man, dig the side of this 1999 Mazda B3000 Troy Lee Edition - with it's "hip" flames (which my 16 year old daughter thought were both "new" and "cute") and did indeed cause a few challenges from some maturity-impaired drivers at the line.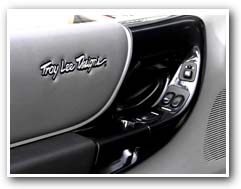 On the inside, you get a very un-truck treatment of metallic sci-fi color scheme and textures which make you feel far from your home on the range.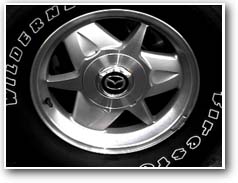 One wonders if a trend is beginning - and if next year we will see a Demi Moore Edition Extended Cab, and a Harrison Ford Edition SUV. I'm holding out for the Seven Of Nine Edition Super Coupe.
And don't forget that while you're listening to the Test Drive you can also check out the complete specifications from TACH's supercharged search engines and comprehensive databases!
Click here for 2000 Editor's Test Drives
Click here for 1999 Editor's Test Drives
Click here for 1998 Editor's Test Drives
Click here for 1997 Editor's Test Drives