The Editor's Test Drives
The World's Only Live In-Car New Vehicle Evaluations!

with Mark Fulmer
Editor-In-Chief, The Auto Channel
New this year inside the 1999 Acura TL - it's a 3.2 L VTEC V6 delivering 225 horses with torque to spare throughout your driving range - it really kicks, and you'll get 27 mpg on the highway too.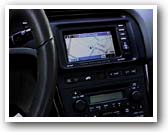 You'll never get lost again if you choose the Acura Navigation System with its GPS tracking and friendly voice, it's the only way to find that new destination at night (or day) and couple it with a cell phone, and there's very few problems you can't solve.
It also doubles as a manual control system for climate control. Cool idea.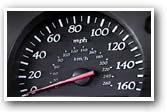 It's the little things that give a car distinctive style - like using a classic font for speedometer numerals. Nice.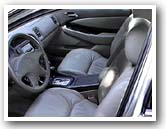 The TL packs a lot of comfort in its clean, stylish interior - you'll start inventing reasons to go places...
And don't forget that while you're listening to the Test Drive you can also check out the complete specifications from TACH's supercharged search engines and comprehensive databases!

Click here for 1999 Editor's Test Drives
Click here for 1998 Editor's Test Drives
Click here for 1997 Editor's Test Drives