The Editor's Test Drives
The World's Only Live In-Car New Vehicle Evaluations!

with Mark Fulmer
Editor-In-Chief, The Auto Channel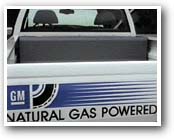 No, that's not a tool box in the bed of this 1998 GMC Sierra 2500 Bi-Fuel Truck - it's a CNG (compressed natural gas) tank that cleanly and effeciently fuels its Vortec V8 powerplant for the first 150 miles - then a 34 gallon gasioline tank can take over for another 400 miles.
If you're a fan of full analog instrumentation, you'll find the dash easy to read and use. The left stalk may need a little getting used to, however, since it is bundled with a fistful of functions.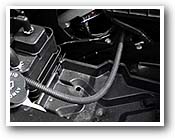 Under the hood, there's even an empty holder for a spare battery. Could be very useful for all you anglers with electric trolling motors...
Fuel Comparison Chart

Physical
State
Gasoline
Liquid
Liquified
Petroleum
Gas
Compressed
Natural
Gas
Methanol
Liquid
Ethanol
Liquid
Net Energy
Content
BTU/lb
18,700
19,100
19,800
21,300a
8,600
11,500
Octane
Number Range
(R + M) ÷ 2
87 - 93
104b
120b
99
100
Sulfur Content
(W + %)
0.02 - 0.045
Negc
Negc
None
None

a - Pure Methane
b - Octane ratings above 100 are correlated with given concentration of tetraethyl lead in 150-octane
c - Natural sulfur content very low but measurable.
Source: The Louisiana Department of Natural Resources
Steering A New Course: Transportation, Energy, and the Environment, pages 75, 76.

For more Natural Gas Vehicle info, try www.ngv.org

And don't forget that while you're listening to the Test Drive you can also check out the cpmplete specifications from TACH's supercharged search engines and comprehensive databases!


Click here for 1999 Editor's Test Drives
Click here for 1998 Editor's Test Drives
Click here for 1997 Editor's Test Drives