Expert New Car Review
1996 DODGE RAM 1500 4X4 SLT
by Tom Hagin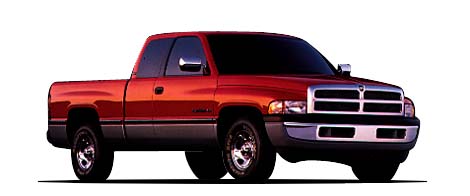 SEE ALSO: Dodge Buyer's Guide
SPECIFICATIONS

     Manufacturer's Suggested Retail Price              $ 18,492
     Price As Tested                                    $ 24,980
     Engine Type                            5.9 liter V8 w/SMPI*
     Engine Size                                 360 cid/5895 cc
     Horsepower                                   230 @ 4000 RPM
     Torque (lb-ft)                               330 @ 3200 RPM
     Wheelbase/Width/Length                   118.7"/79.4"/204.1
     Transmission                           Four-speed automatic
     Curb Weight                                     4553 pounds
     Fuel Capacity                                  26.0 gallons
     Tires  (F/R)                                    LT265/75R16
     Brakes (F/R)                              Disc-ABS/drum-ABS
     Drive Train                   Front-engine/four-wheel-drive
     Vehicle Type                       Three-passenger/two-door
     Domestic Content                                 77 percent
     Coefficient of Drag (Cd.)                              0.44

PERFORMANCE

     EPA Economy, miles per gallon
        city/highway/average                            11/15/13
     0-60 MPH                                        8.6 seconds
     Payload                                         1847 pounds
     Max. towing capacity                            7600 pounds
     * Sequential multiport fuel injection

Sales of the Dodge Ram pickup, with inspirations from the rugged Dodge Power Wagons of the past and the huge interstate haulers of today, have leaped from under five to 16 percent of the truck market. To satisfy demand, the Chrysler Corp. has opened an additional assembly plants for 1996 models, which makes four total, ready to produce a combined 450,000 trucks. This week we test the Ram 1500 4X4, in standard cab, short bed form, with a heavy load of optional equipment.
OUTSIDE - By now, the Ram pickup's unique "big rig" look has made a love-it-or-hate-it impression on pickup aficionados around the country. Our featured vehicle, the 1500 4X4 SLT with a short bed and a standard cab, leans toward the "personal" end of the pickup market, with a chrome grill, bumpers and outside mirrors, along with chromed steel wheels and large all-season light truck tires. Further personal touches include its short, 6.5-foot bed, which gives it adequate carrying capacity and payload, but is unable to accommodate full sheets of plywood in back without first dropping the tailgate. Three tire sizes are available, all 16-inch, depending on the trim level desired.
INSIDE - Climbing up to the seats of the Ram 4X4 requires some agility but once aboard, there 's an ample amount of interior space. The simple instrument panel makes no high-tech claims, but its logical layout puts most ancillary controls within arm's reach of the driver. A pair of cupholders slide from the dash, just above the stereo, while the rotary dials for temperature and fan speed are easy to use. By adding Ram's Laramie SLT trim, items like air conditioning, an overhead console, power windows and door locks, tilt steering and cruise control, along with an AM/FM cassette stereo move this hauler upscale from plebeian to posh. Its 40/20/40 split bench seat features a handy flip-up storage compartment, with slots for coins, pens, tapes and even a laptop computer. Also part of the package are handy plastic storage tubs located behind the seat, in which tools, jumper cables and other necessities can be easily retrieved.
ON THE ROAD - Ram 1500 4X4s are available with one of two capable engines: a 5.2 liter or 5.9 liter V8. The 5.2 liter's 220 horsepower and 300 lb-ft or torque give plenty of low-end grunt to get the job done, but our test truck featured the larger engine, and the extra power was noticeable. Its 230 horsepower provides enough power to hustle the big truck quickly to highway speeds, and produces a healthy V8 growl when the pedal is pushed down hard. And when it's time to tow, the 5.9 liter's 330 lb-ft of torque, combined with an optional heavy-duty service group and towing package will allow a healthy 7600-pound towing capacity. Ram trucks equipped with the smaller V8 can be ordered with a five-speed manual or an electronically-controlled four-speed automatic transmission, while the larger engine is packaged solely with the automatic. We found the clearly labeled (yellow) service points under the hood a nice feature, which made for quick identification of important engine fluids.
BEHIND THE WHEEL - By building Ram with a full frame and front and rear solid axles, the old days of pickup-building are seemingly revisited. But by supporting Ram's front suspension with coil springs, even our 4X4 model offered a ride that was less than kidney-jarring. Its rear leaf spring design reverts back to the old days as well, when virtually all trucks used this setup. With the short-bed Ram, we noticed its ride was more harsh than that of an almost identical Club Cab model we drove a year earlier, but our regular cab's ride smoothed significantly when we loaded its tail with weight. The venerable part-time four-wheel-drive system is helped by shift-on-the-fly capabilities, in which 4WD can be activated at speed. Ram braking uses front discs and rear drums, while anti-lock braking (ABS) is optional.
SAFETY - A driver airbag and side door beams are standard; ABS is optional.
OPTIONS - SLT trim adds $3,662, while the heavy-duty service package is a $385 option. ABS is $500, the 5.9 liter V8 is $270.