New Car Review
1996 MAZDA MX-6 LS
by Tom Hagin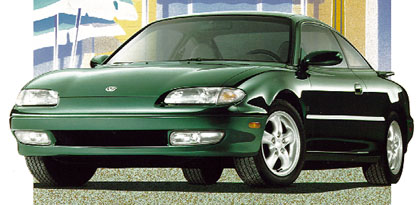 SEE ALSO: Mazda Buyer's Guide
SPECIFICATIONS

     Manufacturer's Suggested Retail Price              $ 23,695
     Price As Tested                                    $ 25,195
     Engine Type                             2.5 liter V6 w/MPI*
     Engine Size                                 152 cid/2497 cc
     Horsepower                                   164 @ 5600 RPM
     Torque (lb-ft)                               160 @ 4800 RPM
     Wheelbase/Width/Length                   102.8"/68.9"/181.5
     Transmission                              Five-speed manual
     Curb Weight                                     2800 pounds
     Fuel Capacity                                  15.5 gallons
     Tires  (F/R)                                     P205/55R15
     Brakes (F/R)                              Disc-ABS/disc-ABS
     Drive Train                  Front-engine/front-wheel-drive
     Vehicle Type                       Four-passenger/four-door
     Domestic Content                                 60 percent
     Coefficient of Drag (Cd.)                              0.31

PERFORMANCE

     EPA Economy, miles per gallon
        city/highway/average                            21/26/24
     0-60 MPH                                        7.9 seconds
     1/4 mile (E.T.)                       16.1 seconds @ 87 mph
     Top Speed (Est.)                                    135 mph
     * Multiport fuel injection

The Mazda MX-6 LS may be built alongside, and shares many components with Ford's Probe GT at the AutoAlliance factory in Flat Rock, Michigan, but it takes a much different approach to the sports coupe segment of the automobile market. Where the Probe attacks the road with a firm ride and massive tires, the MX-6 pampers its occupants from the harsh realities of everyday driving with knock-out looks, sparkling performance and an extra measure of luxury. It comes two ways - the standard four-cylinder powered MX-6 and our featured car for this week, the V6 MX-6 LS.
OUTSIDE - The MX-6 shape combines a series of soft, well- proportioned lines that look great from any angle, with features taken from other sporty Mazda vehicles such as the Miata and RX-7. Its proportions are classic and the appearance timeless - a look that is still fresh, in spite of the fact that it was introduced four years ago. The hood is sloped radically, with flush, wrap-around headlamps, and its roof gently drops to an almost hatchback-like tail. Its profile is long, low and pointed, and with a low 0.31 coefficient of drag, it is able to slice the wind efficiently, with very little wind noise. Almost everything on the outside is body-color, including the bumpers and outside mirrors, while our test LS model wore styled 15-inch alloy wheels and all-season performance tires.
INSIDE - Mazda sound engineers deserve extra credit for keeping things quiet inside the MX-6. Deeply bolstered front bucket seats cradle those up front comfortably and securely, especially when the road twists, and the LS model's leather-wrapped steering wheel and shift knob are thick and pleasant to grip. Our test LS came standard with air conditioning and a power sunroof, as well as an optional leather seating package, which also adds a power driver's seat. Standard items on all MX-6 models include a tilt steering column, a lockable 60/40 split rear seat, rear window defogger, power windows, door locks and outside mirrors, along with an AM/FM cassette stereo. All of its controls are logically placed and within easy reach, and peering through the wheel to spot the gauges comes as second nature. Full instrumentation is standard, including a tachometer, but we'd like to see an oil pressure indicator, instead of a warning light.
ON THE ROAD - Standard-issue MX-6 models use a 118-horsepower inline four-cylinder engine, but the engine of choice for many MX-6 buyers is the silky-smooth 2.5 liter V6. This 24-valve, twin-cam engine puts out 164 horsepower and 160 lb-ft of torque, which isn't overly powerful, but its smooth delivery keeps power constant, regardless of engine rpms. The engine is smooth and quiet, with plenty of entertaining personality, and adds a sweet exhaust note, just to remind drivers of what's under the hood. It's available with either an optional four-speed automatic transmission with overdrive, or a standard smooth-shifting five-speed manual. We suggest the stick-shift version, however, as the automatic saps a noticeable amount of power.
BEHIND THE WHEEL - While the MX-6 LS' powertrain is impressive, its fully independent suspension deserves considerable praise. Adhering to its main mission of providing just the right blend of responsive handling and calm road manners, MX-6 uses front MacPherson struts with coil springs, gas-filled shocks and a thick anti-roll bar. The rear setup features Mazda's "twin trapezoidal" link-type suspension, again with gas shocks and a well-engineered anti-roll bar, to keep the car flat in corners. Its handling is very predictable and stable, especially combined with its variable-assisted, power rack-and-pinion steering. The chassis snaps to attention with a flick of the wheel, but remains composed under duress. LS models feature four-wheel disc brakes as standard equipment, while four-cylinder MX-6 models can have them fitted as an option. An anti-lock braking system (ABS) is optional on both versions, and we feel this is a wise investment.
SAFETY - Dual airbags are standard, ABS is optional.
OPTIONS - ABS adds $800, while its leather seating is $1,095.