New Car Review
1996 JEEP GRAND CHEROKEE LAREDO
by Tom Hagin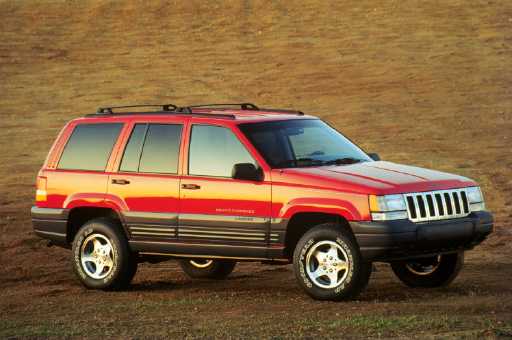 SEE ALSO: Izuzu Buyer's Guide
SPECIFICATIONS

     Manufacturer's Suggested Retail Price              $ 26,571
     Price As Tested                                    $ 31,000
     Engine Type                            5.2 liter V8 w/SMPI*
     Engine Size                                 318 cid/5208 cc
     Horsepower                                   220 @ 4400 RPM
     Torque (lb-ft)                               300 @ 3200 RPM
     Wheelbase/Width/Length                   105.9"/70.9"/177.1
     Transmission                           Four-speed automatic
     Curb Weight                                     3931 pounds
     Fuel Capacity                                  23.0 gallons
     Tires  (F/R)                                     P245/70R15
     Brakes (F/R)                              Disc-ABS/disc-ABS
     Drive Train                   Front-engine/four-wheel-drive
     Vehicle Type                       Five-passenger/four-door
     Domestic Content                                 92 percent
     Coefficient of Drag (Cd.)                              0.45

PERFORMANCE

     EPA Economy, miles per gallon
        city/highway/average                            14/18/16
     0-60 MPH                                        8.5 seconds
     1/4 mile (E.T.)                       16.4 seconds @ 85 mph
     Towing capacity                                 5000 pounds
     * Sequential multiport fuel injection

The Sport Utility Vehicle (SUV) has proven itself an important part of the American roadway, and is by no means a passing phenomenon. Jeep's Grand Cherokee, introduced as an upscale version of the company's popularly-priced Cherokee in 1992, is right in the thick of the market, and continues to move upscale.
Grand Cherokee is available in Laredo and Limited trim, and, although unlikely to do so, has the ability to tackle rugged off-road trails as well as pull heavy loads. Grand Cherokee's likely jobs include the occasional trip to the ski slopes, the transport of little-leaguers and plenty of grocery hauling.
OUTSIDE - Don't confuse the stylishly sculpted Grand Cherokee with its more utilitarian cousin, the Cherokee. Riding tall yet appearing quite poised, Grand Cherokees optionally equipped with the Up-Country suspension package ride higher than standard models by an inch, and utilize larger P245/70R15 all-terrain tires. A full-sized spare tire is also part of the package, although it takes up much of the usable cargo space behind the rear seat. This minor problem can be remedied by an optional rear-mounted swing-out spare tire carrier. New this year is a redesigned grill with a larger opening, along with new protective plastic bodyside molding and available flip-up glass on the rear hatch.
INSIDE - Grand Cherokee's interior is as comfortable as any sedan, and most can find a comfortable seat. The upholstery is soft, yet still provides firm support. A redesign of the instrument panel has softened its lines, along with adjustable shoulder anchors for both front and rear passengers. Both Grand Cherokee models are well-appointed with convenience items such as air conditioning, tilt steering, and power windows, outside mirrors and door locks. Our featured Laredo test vehicle came equipped with a $2,475 options package which included 10-way power front seats, uplevel stereo, theft-deterrent system, automatic on/off headlamps, overhead console, automatic dimming inside rearview mirror, and deeply tinted rear glass.
ON THE ROAD - Standard Grand Cherokee power comes from a 185 horsepower 4.0 liter inline six cylinder engine, which benefits this year from structural stiffening efforts to reduce noise and vibration. Many buyers opt for the available 5.2 liter V8, which bumps horsepower to 220, while it produces a stump-pulling 300 pound-feet of torque. This figure plays an important role; not only does it give the heavy vehicle the ability to quickly attain highway speeds, but, if fitted with the optional trailer tow package, a maximum of 6,500 pounds can be efficiently pulled. Its brand-new four-speed automatic transmission helps in this area as well, because it's lighter by 35 pounds, and features revised gearing and higher torque capabilities to help improve acceleration and pulling power.
BEHIND THE WHEEL - Although 4WD Grand Cherokee models ride on vintage solid axles front and rear, both ends are supported by long-travel coil springs that soak up bumps easily, and provide decent handling for a sports/utility vehicle. Jeep's top-line Quadra-Trac four-wheel-drive system has also been revised for 1996, and now puts 100 percent of the engine's power to the rear wheels on dry pavement. This greatly reduces driveline wear, and allows tighter turning, which helps parking maneuvers. Also new is an aluminum rear differential housing - 16 pounds lighter than the steel unit it replaces. Its steering is of the recirculating ball-type and offers good responsiveness, while the steering column has been stiffened this year, which reduces shaking. Four-wheel disc brakes are standard, as is an anti-lock braking system (ABS). Its impressive 130-foot, 60-0 mph stopping distance is close to that of expensive sedans.
SAFETY - Grand Cherokee comes with dual airbags, anti-lock brakes, side-impact beams and available rear integrated child seat.
OPTIONS - The desirable V8 option is $1,311 and the CD player goes for $280. The locking rear differential ($285) and Up-Country suspension ($578) are useful in rough terrain and destination charges are $500.