New Car Review
1996 CADILLAC DEVILLE CONCOURS
by Tom Hagin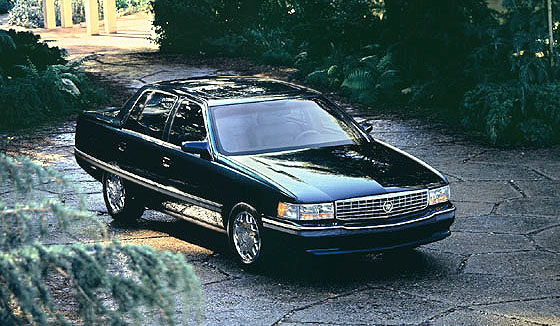 SEE ALSO: Buick Buyer's Guide
SPECIFICATIONS

     Manufacturer's Suggested Retail Price              $ 40,095
     Price As Tested                                    $ 43,515
     Engine Type                            4.6 Liter V8 w/SPFI*
     Engine Size                                 279 cid/4565 cc
     Horsepower                                   300 @ 6000 RPM
     Torque (lb-ft)                               295 @ 4400 RPM
     Wheelbase/Width/Length                  113.8"/76.6"/209.7"
     Transmission                           Four-speed automatic
     Curb Weight                                     3981 pounds
     Fuel Capacity                                  20.0 gallons
     Tires  (F/R)                                     225/60HR16
     Brakes (F/R)                              Disc-ABS/disc-ABS
     Drive Train                  Front-engine/front-wheel-drive
     Vehicle Type                        Six-passenger/four-door
     Domestic Content                                 95 percent
     Coefficient of Drag (Cd.)                              0.35

PERFORMANCE

     EPA Economy, miles per gallon
        city/highway/average                            17/26/22
     0-60 MPH                                        7.3 seconds
     1/4 Mile (E.T.)                       15.2 seconds @ 90 mph
     Top Speed (Est.)                                    130 mph
     * Sequential port fuel injection

With the passing this year of the Cadillac Fleetwood, the car that typified the classic American large sedan, few will notice that its popularity is being replaced by Cadillac vehicles of almost equal proportions, the DeVille, and its upscale sibling the DeVille Concours.
The old recipe for the traditional "land yacht" required acres of interior room, soft road manners and plush comfort amenities. But to achieve this goal, performance was compromised and road handling wasn't even considered. Concours adds nimble handling to the overall picture, thanks to lots of high-tech gadgetry, along with nearly every creature comfort imaginable, as our test vehicle of the week demonstrates.
OUTSIDE - At nearly two tons of mass, the car is easily recognizable as coming from General Motors' upscale vehicle division, even though it's been sculpted in the Euro-sense. Its corners are rounded, the hood sloped and the cabin glass is wrapped by thin strips of brightwork. The stand-up crested wreath hood ornament is conspicuously missing and reserved for the lesser DeVille. All DeVille models wear alloy wheels and large 16-inch tires, with chrome wheels an option.
INSIDE - The Concours is a true six-passenger vehicle, and nobody riding inside will suffer a compromised seating position. Its front bench seat contains a retractable armrest that can hold cassettes and CDs, as well as providing coin slots and dual cup holders. Soft leather, standard on Concours, is very comfortable, while its wide dashboard is carefully designed in the vintage Cadillac tradition, with styling cues borrowed from its more modern cousin, the Seville. Its interior controls are all either powered or work automatically, and are now larger and easier to operate. One of those auto features is its Rainsense Wiper System, which automatically activates the windshield wipers when it starts to rain. Another is its climate control, which keeps the cabin at a constant temperature, and features ventilation ports to the rear seats. A powerful 11-speaker AM/FM cassette stereo system is standard.
ON THE ROAD - All front-drive Cadillac models are powered by the revolutionary Northstar System, and most assume that Northstar refers only to its all-aluminum, 32-valve V8 engine, but it's much more than that. True, it gives 300 horsepower, (up this year from 275) and will rocket the large vehicle astoundingly fast to freeway speeds. Its 295 lb-ft of torque gives plenty of low-end power for quick acceleration as well. But the total Northstar System combines engine, transmission, suspension, braking and steering inputs into one package. It's easier to say, though, that the engine is powerful, the four-speed automatic transmission shifts smoothly, the brakes stop quickly and there aren't many vehicles on the road that can outrun Concours. Torque steer, where engine power affects steering motions, is almost undetectable, while its traction control, which reduces wheelspin on slippery surfaces, now features an override button to deactivate the system.
BEHIND THE WHEEL - True to Cadillac tradition, the Concours ride is soft and plush. Cadillac calls its underpinnings the Continuously Variable Road Sensing Suspension, which uses a central computer to monitor wheel motions caused by bumps in the road, along with steering angle to stiffen or relax the suspension according to pre-programmed instructions. Its goal is to improve ride quality, without sacrificing handling. For such a large car, it handles well enough to give complete confidence to its driver under most everyday conditions. The interior is incredibly quiet, and its four-wheel disc brakes with anti-lock control work well to slow the huge car, although they suffered some fade after repeated high-speed stops. New this year is the Magnasteer variable effort steering, a combination of hydraulic, (the traditional power steering type) electronic and magnetic assist mechanisms which adapt to varying road surfaces quicker than previous Cadillac systems.
SAFETY - Dual airbags, anti-lock brakes, daytime running headlights and side-impact protection round out the Concours safety features.
OPTIONS - Uplevel stereo with 12-disc CD changer: $790; theft deterrent system: $295; electronic compass: $100; chrome wheels: $1,195.