New Car Review
1996 CHEVROLET CAVALIER Z24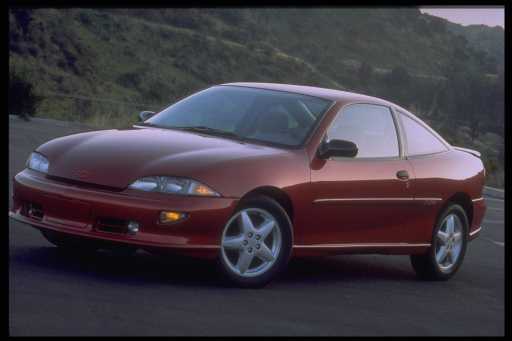 by Tom Hagin
SEE ALSO: Chevrolet Buyer's Guide
SPECIFICATIONS

     Manufacturer's Suggested Retail Price              $ 14,200
     Price As Tested                                    $ 16,665
     Engine Type                             2.4 Liter I4 w/SFI*
     Engine Size                                 146 cid/2393 cc
     Horsepower                                   150 @ 6000 RPM
     Torque (lb-ft)                               150 @ 4400 RPM
     Wheelbase/Width/Length                  104.1"/67.4"/180.3"
     Transmission                              Five-speed manual
     Curb Weight                                     2788 pounds
     Fuel Capacity                                  15.2 gallons
     Tires  (F/R)                                     P205/55R16
     Brakes (F/R)                              Disc-ABS/drum-ABS
     Drive Train                  Front-engine/front-wheel-drive
     Vehicle Type                        Five-passenger/two-door
     Domestic Content                                 90 percent
     Coefficient of Drag (Cd.)                               N/A

PERFORMANCE

     EPA Economy, miles per gallon
        city/highway/average                            23/33/26
     0-60 MPH                                        9.1 seconds
     1/4 Mile (E.T.)                       16.9 seconds @ 83 mph
     Top Speed (Est.)                                    106 mph
     * Sequential fuel injection

With over three million Chevrolet Cavaliers on the road since 1982, it's understandable that engineers at General Motors were cautious when altering a successful concept. But Cavalier's competition changes in roughly four-year cycles, so it was time to redesign the aging commuter.
Cavalier is offered as a coupe, sedan or convertible, in Base, LS and Z24 trim levels. Our test vehicle for this week, the Z24 coupe, exhibits some very classy lines and aerodynamic flair, along with good handling skills, but you can still see its economy car roots.
OUTSIDE - Visibility problems experienced with the old Cavalier have been addressed in the new model by lowering the cowl, increasing its glass area, and slimming the pillars that support the roof. Structural integrity has been enhanced as well, and Chevrolet engineers have significantly strengthened its chassis in both bending and twisting, which results in a noticeable improvement on the road. As expected, the various Cavalier models can be outfitted with different styling combinations such as body-color bumpers and side molding, along with three different tire sizes. Our Z24 test vehicle used handsome five-spoke alloy wheels with 16-inch high performance tires.
INSIDE - The crisp, clean design of the new dashboard layout features simple-to-use rotary dials for its ventilation and audio controls. Most drivers should be able to tailor a comfortable position, as Z24 models come standard with a tilt steering column and softer, upscale upholstery. Other standard Z24 interior features include a full folding rear seat, air conditioning, tinted glass, floor mats and an inside trunk release. Standard audio comes from an AM/FM cassette stereo, although an upscale system, which includes a CD player and four speakers, is available. Our test car came with a Preferred Equipment package that adds cruise control, power windows, door locks and mirrors, along with keyless entry and variable speed intermittent wipers. Trunk space is ample, even more so with the rear seat folded, and it's easy to load items due to its low lift-over height. Z24's standard cargo net helps keep grocery bags in check.
ON THE ROAD - Cavalier's 2.4 liter inline four cylinder engine is new for 1996, and delivers an ample 150 horsepower and 150 lb-ft of torque. It uses twin overhead camshafts, four valves per cylinder and dual counter-rotating balance shafts to smooth vibrations. The new engine's longer stroke, larger displacement and revised camshaft timing are the mechanical differences from last year's 2.3 liter "Quad 4" powerplant, but an extra dose of torque improves acceleration at low and mid-range engine speeds. Acceleration proved so-so at best, but was easily able to sprint the car to freeway speeds. The Z24's standard five-speed manual transmission shifted smoothly, and seems appropriate for the sporting Z24 model. If manually changing gears isn't appealing, a four-speed automatic transmission is optional.
BEHIND THE WHEEL - While the Cavalier's underlying roots are based on economical transportation, Z24 models benefit from grippy 205/55R16 high performance tires, which greatly enhance handling. Its suspension layout is very basic, with MacPherson struts and coil springs up front, and a simple twist beam rear axle. Stabilizer bars front and rear, which help keep the car flat under hard cornering, are standard on Z24 models. They are also fitted with quick-ratio power rack-and-pinion steering, which provides good feedback and crisp turn-in. A curving road may not be cause for rejoicing while piloting the Z24, but the car holds its own with performance cars costing much more. Models fitted with GM's optional four-speed automatic transmission (now available on base versions) come standard with traction control, which limits wheelspin on slippery surfaces. All Cavalier models use front disc/rear drum brakes, with an anti-lock braking system (ABS) standard.
SAFETY - Dual airbags, ABS and side-impact protection are standard, while traction control is available only with the four-speed automatic.
OPTIONS - Preferred equipment Group #2: $975; electric sunroof: $670; Electric rear window defogger: $170; CD player: $155.