New Car Review
1996 TOYOTA 4RUNNER SR5
by Tom Hagin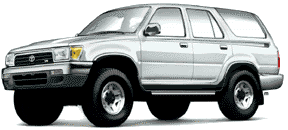 SEE ALSO: Toyota Buyer's Guide
SPECIFICATIONS

     Manufacturer's Suggested Retail Price              $ 26,048
     Price As Tested                                    $ 32,484
     Engine Type                             3.4 Liter V6 w/EFI*
     Engine Size                                 206 cid/3378 cc
     Horsepower                                   183 @ 4800 RPM
     Torque (lb-ft)                               217 @ 3600 RPM
     Wheelbase/Width/Length                   105.3"/66.5"/178.7
     Transmission                           Four-speed automatic
     Curb Weight                                     3950 pounds
     Fuel Capacity                                  18.5 gallons
     Tires  (F/R)                                     P265/70R16
     Brakes (F/R)                              Disc-ABS/drum-ABS
     Drive Train                   Front-engine/four-wheel-drive
     Vehicle Type                       Five-passenger/four-door
     Domestic Content                                 10 percent
     Coefficient of Drag (Cd.)                               N/A

PERFORMANCE

     EPA Economy, miles per gallon
        city/highway/average                            17/19/18
     0-60 MPH                                        9.8 seconds
     1/4 mile (E.T.)                       18.0 seconds @ 78 mph
     Towing Capacity                                 5000 pounds
     * Electronic fuel injection

Toyota's third generation 4Runner has been transformed from the original truck-with-a-back-seat version into a luxurious family wagon that just happens to be able to climb steep rocky terrain with ease. Available in Base, SR5 and upscale Limited trim levels, all models benefit from a new powertrain, suspension and interior.
Our test week was spent behind the wheel of a well-appointed SR5 model, with almost all the trimmings.
OUTSIDE - Muscular and looking every bit a rugged four-wheeler, 4Runner now looks even closer to Toyota's top-line Land Cruiser luxury SUV. It now uses larger headlights and outside mirrors, along with wider front and rear door openings. With a two-inch longer wheelbase and an overall length that's been stretched by nearly three inches, the new 4Runner's extensive outside modifications not only enhanced its appearance, but make things less cramped inside. Replacing the previous model's two-piece tailgate is a single swing-up door with a power window, and a lowering of the cargo floor height by over three inches makes loading "stuff" in back is much easier. 4Runner's standard tires are large 225/75R15 all-season radials, including the spare, which is located under the rear of the vehicle. Steel wheels are standard; alloy wheels are offered optionally.
INSIDE - While 4Runner is based on a heavy-duty truck undercarriage, things inside are remarkably civilized. Its longer wheelbase and larger doors have opened a spacious amount of back seat room, something the previous model didn't offer. Headroom and legroom have increased, while cargo capacity expands by a few cubic feet with the 50/50 split folding rear seat up or down. Inside is a full compliment of controls and instrumentation, all logically placed and simple to reach. Its dashboard is very car-like and easy on the eyes. Shift-on-the-fly 4WD engagement is done with a floor-mounted lever, while Limited models are fitted with a dashboard button for 4WD-Hi. To return to 2WD-Hi, the lever is used.
ON THE ROAD - Under the SR5 and Limited model's hood is a 3.4 liter V6, outfitted with dual overhead camshafts and 24 valves. Where last year's version pushed 150 horsepower, this new model enjoys 183 horsepower and 217 lb-ft of torque. This represents a healthy power jump, and it's noticeable on the road. Accelerating to freeway speeds comes a couple of seconds earlier, and the engine doesn't sound strained under full throttle as with prior 4Runner models. Our test drive included climbing several of California's steep mountain passes and the '96 required fewer downshifts. On Base model 4Runners, an enlarged 2.7 liter four cylinder engine is standard, and equally as powerful as last year's V6. Gear changes with the automatic transmission are smoother now, thanks to modified programming inside its electronic control module. A five-speed manual transmission is also available.
BEHIND THE WHEEL - 4Runner rides on a full ladder-type truck frame, rigid and strong, but aside from a few suspension bits and its powertrain, it doesn't share many components from its pickup stablemate, the Tacoma. The underpinnings have been created specifically for the 4Runner. The front suspension is all new, using a double wishbone configuration, but instead of relying on torsion bars like the old model, 4Runner is now supported by coil springs which absorb bumps better. The rear suspension, while still using an archaic truck-type solid rear axle, is also supported by coil springs. Both front and rear suspension travel has been increased, but its climb-aboard height is now lower. Its steering is different as well. Instead of the old recirculating-ball type steering assembly, a rack-and-pinion design is utilized, which is more precise and stable, and more responsive as well. On all but base model 4Runners, an anti-lock braking system (ABS) is standard equipment, and optional on four cylinder versions.
SAFETY - Besides its ABS system, dual airbags grace its dashboard, while steel beams inside the side doors protect during side impacts.
OPTIONS - Rear seat heater: $165; air conditioning: $985; power moonroof: $915; alloy wheels and larger tires: $1,030; CD player: $457.