Motorcycle Review
Why the new Fireblade/929 is still the definitive sport bike

By Nicholas Frankl
Contributing Editor
The Honda Fireblade was the sports bike of the 90's. Every time you read about it, the Blade was No1 in sales, No1 in desirability - the must-have biking accessory. That was true right up to the point when Yamaha snuck in the back door and stole the mustard with it's embarrassingly quick R1. The critics poured praise like sweet honey over the light, nimble Yamaha and the punters snapped them off the forecourts. Much to the disgust of Honda and its dealers.
For the year 2000 we have to thank Yamaha for bringing us the Fireblade 929. As anyone in business knows, there's nothing like strong competition to stop one resting upon old laurels, concentrating the mind and redoubling one's efforts to create an even better product. The CBR 929 RR is completely new. A new liquid cooled DOHC fuel injected 929cc inline-four which pumps out 20% more horse power (up to a claimed 160bhp)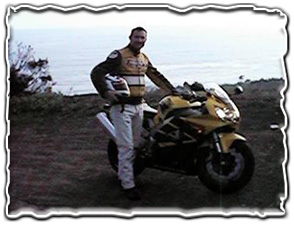 and 12% more torque. A redesigned chassis that incorporates a 21mm longer swing-arm, 28% more rigid than the outgoing model, a twin spar aluminium frame that utilises Honda's pivotless technology and which helps to reduce overall weight by some 28 pounds. Easy you might think, but not when the whole bike weighs in at an Ally McBeal waifish 379 pounds and you consider that 10.6 ounces was shaved off each camshaft by the tech heads. Add to this a new 17 inch front wheel, new inverted forks and a steeper steering head angle and you have a transformed motorcycle with the best steering precision in the industry.
Face to face with the new Blade the first thing that you notice is it's lack of aggressive styling cues. It isn't an intimidating bike to look at, not in the same way the first Blades, introduced in the early nineties, were. The colour scheme, especially in red, is boring, the yellow at least giving the thing a bit more life. The other surprise is a package that looks more like a 600 than a 900/1000. Do you remember the good old days of thumping great 1000cc bikes? They had attitude, big chrome exhaust manifolds and four pipes out the back. Now, as we advance, we shrink like micro chips in computers, 4 into 1 exhausts, catalytic converters, narrow wind tunnel designs. Great. But something has to suffer and usually it's the level of comfort. After 5 hours in the Malibu canyons of Los Angeles I can tell you that despite an incredible, adrenaline-filled day, everything hurt. And I've done two Olympic Games in a very small steel tube called a bobsled!! What we define as comfort today, when riding sports bikes, is really just one big compromise.
But, truth be told, the 929 is a dream in such an environment. With my buddy Kent we thrashed along the Pacific Coast Highway, mountains to our right shoulder, the Ocean on our left. Up, into the depths of the hills
we ran, along Mulholland, looking tentatively for other bikers, wondering where sports bike enthusiasts go to rub their knee on the asphalt on a Saturday afternoon. Angel's Pass, I kept on hearing from all who would voice an opinion on the subject. So Yahoo! maps came back with a route and off we went - straight into a housing estate! With the plan in the can, we elected to stick with what we knew would be good and for next five hours or so the sun was shining (as it so often does in LA), the roads were bare and we enjoyed what sports bikes were created for. Namely a jolly good thrashing. Neither Kent on his R1 nor I are "hardcore" riders. We respect the machines mechanics and our own vulnerability too much. But that doesn't mean we're chicken either and at a number of occasions I saw over 145mph on the clock with the 929 still pulling.
After a quick bite we swapped over. Wow! What a difference. I admit that the R1 was over a year old with 5,000 miles on it , but it was a clean bike and never abused. What I noticed first, as did Kent, was the difference in steering and especially turn-in. The Honda falls into corners with a wink and smile - whilst the Yamaha needed a good deal of effort in comparison. The R1 also appeared not to like riding in a straight line, the bike only really feeling comfortable whilst in a corner or off center. It was also slower out of second gear corners and slightly weaker at the top end too. The Yamaha's smoothness and precision made riding enjoyable, but not to the same degree. Back on the Honda it was plainly obvious which bike we both enjoyed more. Coming across a group of leather-suited riders at the top of one of the canyons we stopped for a chat. Bikers are great in this sense. They are always ready to gossip about this exhaust or that rear tyre. They all know the lingo and what's around, and most seemed interested in the 929, despite one of them having his own red version. It looked tired, despite being only a few weeks old. "It's much nicer than the old one", announced Joe, a programmer from the Valley. "I 've had a few sports bikes and most have had trouble running on the track days, but this 929 with my few tweaks is really cooking". And with that he and his friends were off, all wheelies and stoppies, down to the valley and home after another adrenaline-filled day.
Out that evening for dinner two up, a girlfriend of mine on the back, the 929 was still a delight. Safe, secure and hassle free. These modern Hondas feel as if they will run for ever, the fit and finish is excellent and the mechanical precision a delight to behold. The dash is clear and precise with great instumentation combined with fantastic headlamps that actually allow you to ride almost as quickly at night as in daylight.
If you're in the market for a sports bike - you don't need me to suggest you try the Honda - the chances are it's top of the list already and the fact is that any of the R1's, Suzuki's or Kawasaki's will do the job just as well. But if want to be a part of the Fireblade legend there really is only one to have.
Honda 929

Top speed        175mph+

Dry Weight       379 pounds	

BHP              150bhp

Price            $9,999


---
More Information:
www.honda.com

With thanks to:
Arai helmets: www.araiamericas.com
Intersport Clothing: 1-(800) 416-8255 / www.intersportfashions.com