New Motorcycle/Review
SUZUKI GSX-R750
By
Alexis Bachofen
Finally the waiting is over! Two weeks ago Suzuki officially launched its new GSX-R750 to the Australian Media and anxious public. Following a year of dramatic industry developments and major launches from Honda, Yamaha and Kawasaki how will the GSX-R shape up to the new Fireblade, R1 and ZX-9R Ninja?
Since itís launch the GSX-R has lead the field in weight reduction motorcycles and was the first and best-selling 750cc, race-bred road legal motorbike. A full 20% lighter than any of itís competitors, due to the new oil-cooled engine, the 1985 GSX-R entered the market, in 1985 weighing only 179kg with far superior power-to-weight ratio, offering its riders easier power control and quicker handling.
Now totally re-designed for 2000 the GSX-R is poised to steal the limelight once again and well into the new millennium. With the aid of top of the range computers, Suzuki decided to stick with traditional engine design and incorporate a 16 valve, in-line four-cylinder liquid cooled engine, offering 141bhp at 13,000rpm. Outstanding!! The new engine is 5kg lighter with 6 extra horsepower, than its predecessor, offering the perfect combination of size to weight performance.
Complemented by a chassis, designed and tested in a wind-tunnel, a full 13kg lighter than the 1999 model, with dual-beam headlamp and a smaller tailsection with integrated tail lamp the GSX-R will turn heads of that I have no doubt. It will also have owners of older GSX-R models pinning in envy, as it is so radically different and better looking than the 1999 model. To write Iím looking forward to a ride would be an understatement. The GSX-R has been one of my favourite bikes for years! Iím extremely jealous of any of you lucky enough to have purchased or had a ride on a 2000 model already.
Suzuki has also incorporated a compact digital speedometer, clock, temperature gauge, odometer and trip meters in the new instrument cluster. Together this may offer the most complete Superbike replica the public has ever seen. One question - whenís the 600 version going to be released?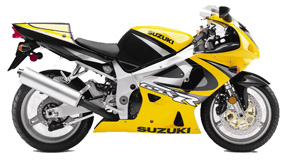 Recently the GSX-R won a Superbike standoff in Jerez, Spain. Pitched against the likes of Ducatiís 996SPS, Yamahaís R1, Hondaís Fireblade and Kawasakiís ZX-9R, the Suzuki GSX-R750 was fastest around the track and destroyed the field. Thatís great going and proves what weíve all been hearing for ages, the new GSX-R will launch Suzuki back onto the podium and give us all something to save up for.
A German publication Motorrad had the following findings: "Hold tight: with a maximum speed of 278km/h, the sprightly GSX-R750 can keep up with the R1 and CBR and more. When pushed to the limit, the new engine produces an unbelievable 144hp, and can reach 200km/h from a standing start in 8.1 seconds."
$15,300 buys you a brand spanking new 2000 GSX-R750 (plus on-road costs) - at least some luxuries have become a little more accessible thanks to GST. Available in blue/white, Yellow/black and black/silver this Suzuki is sure to give all other manufactures a headache and something to think about.
Watch this space for the first WA GSX-R750 road test soon. Letís all hope that itís stopped raining by the time I get my hands on oneÖ.

Engine Type:            Liquid-cooled, four-stroke, four-cylinder, double overhead camshaft.
Bore & Stroke:          72.0 x 46.0mm
Displacement:           749cc
Compression:            12.0:1
Carburetion:            Fuel injection 42mm
Ignition:               Digital electronic
Starter System:         Electric
Lubrication system:     Wet sump
Transmission:           Six-speed, constant mesh
Frame type:             Twin-spar (aluminium alloy)
Suspension Front:       43mm Showa (inverted, inner cartridge)
                        fully adjustable rebound / compression
                        damping, 15mm range spring preload.
            Rear:       Swingarm, progressive linage, fully 
                        adjustable rebound / compression 
                        damping, 10mm range spring preload.
Wheels:    Front:       3.50 x 17 inches, cast aluminium alloy
            Back:       5.50 x 17 inches, cast aluminium alloy
Brakes:    Front:       Four-piston calipers, 320mm dual discs
            Rear:       Two-piston calipers, 220mm disc
Tyres:     Front:       120/70ZR17
            Rear:       180/55ZR17
Fuel Tank:              18 liters
Wheelbase:              1,410mm
Ground clearance:       130mm
Dry weight:             166kg
Top Speed:              278km/h
Horse Power:            141bhp

Alpinestars clothing:
www.alpinestars.com
Arai Helmets: www.araiamericas.com