New Motorcycle/Review


by Alexis Bachofen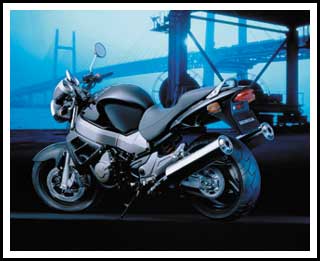 It's motorcycles like Honda's new X-11 that remind me how lucky I am to be able to test bikes. So I ask you to briefly close your mind to any sounds around you and quickly give me a moment of your undivided attention. The X-11 is fast, let me put that into perspective, it's almost as swift as Honda's Blackbird; let me also add that it's not only quick in a straight line. If you've ridden fast bikes before you'll know what I'm talking about, if not try for a moment to imagine that your motorbike has over 140 horse power and enough torque to leave a 600cc sports bike standing whist you're 50 yards up the street. Speed is something very few bikes, that number is gradually increasing, do well. All manufactures have bikes that will break 180mph, but none have dared before now to take the engine from their fastest bike and put into a lean mean muscle bike.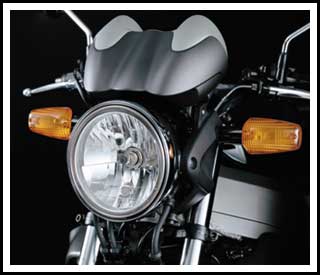 Let me introduce you to the X-11 and let me begin by telling you how remarkable it looks. The front dials are incorporated into a small, yet very useful moulded design that believe it or not does disperse the wind around the rider. It's ingenious,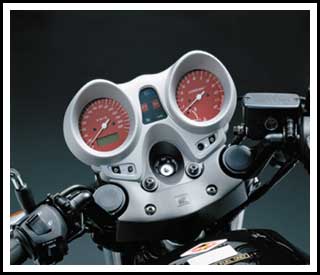 there's absolutely no need for a small shield, well in summer anyhow. I had the X-11 up to 120mph and found myself quite relaxed and not hanging on for dear life, as with most unfaired bikes. The extra large, exaggerated, tank sits well on the X-11 and compliments its rugged look. The X-11 looks as quick and hard as it is, like a Hornet on steroids, when on the road it holds a presence like no other machine. The radiator boasts a large aerodynamic shroud that not only knocks a large hole through the air but also produces more down-force on the motorcycle adding to the X-11's phenomenal stability. The slim rear of the X-11 is beautifully styled with a set of jet-like ports and a comfortable "Ducati Monster like" seat. Its massive 180/55 rear tire emphasising its ability. It's wide and it's heavy, 222kg, yet as soon as you get onto the open road it purrs like a cat with the hidden tiger waiting to pounce.
However, at the same time as developing new and revolutionary designs into the X-11,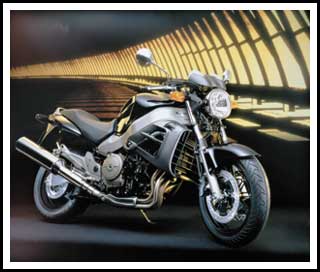 Honda has taken the best from the rest of it's fleet and incorporated them into the X-11. The X-11 has the Dual Combined Brake System and the fuel injection control unit from the Blackbird and the VFR. As well as Low-Emission HECS3, Honda's new Evolutional Catalysing System previously only in the Swiss and German versions of the Blackbird and VFR.
When I picked up the X-11 from Honda UK I was surprised by it's unique and ferocious styling. Don't get me wrong it's pleasing to the eye, just different, you've got to be prepared to ride it like it deserves, otherwise you may end up looking like a bit of a coward. As soon as I sat on the X-11 and felt it's radically different riding position I knew I was going to like it. Seated slightly far back you grab the handlebars with arms fully extended. The handlebars are short and again add to the aggressive feel of the X-11. However the riding position is hampered by the tank design that can interfere with your knees, if you've got long legs like me. But I found that by sitting a little further back on the seat my knees no longer rubbed the 22litre tank. The X-11 has a lot of low down torque and I powered away from Honda onto the A4, one flip of the wrist and the bike was really moving. Outstanding acceleration combined with remarkable handling give the X-11 the complete combination for a naked all round motorcycle. I've never been a fan of Honda's combined braking system, but one does get used to it quite quickly. The brakes work well, but after riding a Yamaha R1 they did, at first, make me a little nervous.
Whilst riding the X-11 I must have been stopped well over thirty times by other bike riders. At one point I parked the bike on the pavement and returned to find ten people crowding around it. One man even got out of his car to come over and chat to me one morning. Yet it's not only the X-11's styling that will sell as it's great fun to ride and will out perform most others. What more can I say?
Honda has once again done what it does best, introduced a new motorcycle that will take the European market by storm. The X-11 will sell well, of that I have no doubt whatsoever, it's a sensational bike and at around £6599 it's a bargain. Available in Blazing Red, Black Metallic and Tahitian Blue.
Well done Honda, major thumbs up!!!
For more information on the X-11 contact Honda at: www.honda-eu.com