New Motorcycle/Review
Honda FireBlade
by
Alexis Bachofen
Let's be honest, there wasn't much wrong with the "old" Honda Fireblade. The leader in its class until the recent Yamaha revolution, it was the benchmark for all others to compete against since its launch in 1992. Now with the 900 class opening up and attracting more competition and sales than ever before Honda have unveiled their new Blade. Deciding to not compete directly against Yamaha and Kawasaki's hard-hitting styling, Honda have instead gone for a more discrete approach, following along from their new CBR and VFR models. Is this what the public is after? In my opinion Honda have hit the nail on the head. There was no reason for them to try and develop a motorcycle more aggressive looking than an R1 or ZX9R, instead the Japanese market leaders have concentrated on the finer things a bike can offer its rider, and in true Honda fashion they have done just that.
Let's remind ourselves that it takes years of development to release a motorcycle so perfect. "Perfect" being the optimum word, although I well understand that we all look for different things in a bike. Honda have somehow managed to combine their best 900 engine yet into a lean stripped down, totally redesigned fairing that will appeal to the masses and to find things wrong with the new 2000 Fireblade I needed to be more picky than my mother. There's simply nothing wrong with this Honda!
Wind deflection is vastly improved, as is rider comfort. With its new fuel injected engine now 929cc and pumping out 152PS, the Blade will even out-accelerate a FJ1200, in top gear from 35km/h. Good for around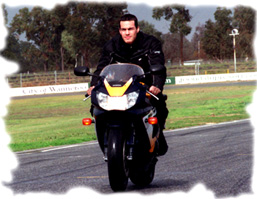 280km/h I dread to think how many customers will be losing their licences after purchasing a new Blade. The fact that it gets to 200km/h without butting an eyelid and then keeps pulling thereafter is staggering. And so much fun! For the first time Honda have introduced inverted suspension in their FireBlade, that's effortless to adjust. New bigger front disc brakes stop the bike quicker than ever, was I glad the other day at Wanneroo! The Blade weighs in at only 170kg, a little light at the front end but no more so than a R1 or Ninja. The new dual headlamps light up the dark as if it was day and under the pillion seat there's enough space to put an entire wardrobe of wet weather gear. Combine all that with Honda's new digital computer controlled immobilising key system, and you have one of the most complete all round motorcycles ever. Still hammered by the R1 in performance but fast enough for me.
The new speedometer, now digital, is clear, perfectly positioned and easy to read. I dread to think how many man-hours went into its development. Even at night or in bright sunlight it lights up providing the rider with speed, dual trip distance and the time. Although admittedly I do reminisce and often wish I could see two dials working in unison, "move with the times", I keep telling myself. The 2000 Honda FireBlade has done just that. A huge improvement upon last year's model! If you have an old FireBlade that you're thinking of upgrading, I strongly recommend you trade it in for this younger, faster and slicker model.

Engine Type:          Liquid cooled 4 stroke,
                      16 valve, DOHC inline 4
Bore & Stroke:        100 x 63.6mm
Displacement:         929cc
Compression:          10.8: 1
Carburetion:          Electronic Fuel Injection
Ignition:             Computer-controlled digital
                      transistorised with electronic
                      advance
Starter System:       Electric
Lubrication system:   N/A
Transmission:         Six-speed
Frame type:           Twin-spar (aluminium alloy)
Suspension  Front:    43mm inverted HMAS cartridge-type
                      with stepless preload, compression
                      and rebound adjustment, 120mm axle travel.
             Rear:    Pro-Link with gas-charged HMAS damper 
                      featuring 13-step preload and stepless
                      compression and rebound damping adjustment,
                      135mm axle travel.
Wheels:     Front:    17 x MT3.50 'U'-section 
                      six-spoke cast aluminium
             Back:    17 x MT6.00 'U'-section 
                      six-spoke cast aluminium
Brakes:     Front:    Four-piston calipers, 320mm dual discs
             Rear:    Single-piston calipers, 220mm disc
Tyres:      Front:    120/70ZR17
             Rear:    180/55ZR17
Fuel Tank:            18 litres
Wheelbase:            1,409mm
Ground clearance:     130mm
Dry weight:           170kg

Alpinestars clothing: www.alpinestars.com
Arai Helmets: www.araiamericas.com