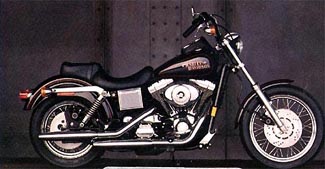 Harley Davidson FXDL

By Ted Laturnus

By now, most cruiser enthusiasts know that Harley has a new engine on the market. Known as the Twin Cam (or Fathead to some), it represents the first new powerplant from the Milwaukee company in fifteen years. Not really that long a time span, when you consider that they kept the Shovelhead for - what? - 18 years, and have never been known to rush into things.
As you might expect, the new powerplant is not visually much different from its predecessor, the Evolution. Because it has 50 per cent more cooling fins on the engine barrels, it's a…er…fatter looking engine, and the tappet blocks and airbox are also different. But to the casual viewer, it would seem to be business as usual.
Wrong, Kemo Sabe.
This engine couldn't be more different from the old and only shares about 15 parts with the Evo. It's quieter, more powerful, more sophisticated, and, so they tell us, much more durable. Harley would have been nuts to radically alter the 45-degree air-cooled V-twin, and risk alienating their traditionally conservative customer base.
Anyway, I recently spent some time in the saddle of a Fathead-propelled Hog, the FXDL, or Dyna Low Rider. Harley will be fitting the Twin Cam to all of their 1999 rubber-mounted models, but Softail lovers will have to wait until the 2000 model year at least.
Once aboard the new FXDL, the first thing you notice is how subdued the twin cam engine is. While idling, it still bounces and vibrates like an Evo, but doesn't chatter, click, tap, or knock while it's at it. The new engine has a larger bore than the old, but a shorter stroke, and it is better behaved, but not by that much. Personally, I like it. There is something undeniably dramatic about a stroked and hopped up Evo or Shovelhead, but give me an engine that's powerful and reliable every time.
There is also a much deeper well of power at your fingertips. The Fathead has eight cubic inches more displacement than the 80-inch Evo, with a torque output of 82 foot-pounds at 3500 rpm. My test bike was bog stock, with absolutely no performance mods of any kind, and under hard acceleration, could almost keep up to my own personal ride (a 1998 FXD Super Glide), which has had some minor alterations done to it…mostly in the area of breathing. Power comes on cleanly, with no bumps or flat spots. Because it revs to 5500 rpm and develops about 62 hp at the rear wheel, the Fathead is particularly potent at high rpms, and, once it gets up a head of steam, will leave all stock Evos in the dust. It also has a slightly quieter exhaust note…at least with stock pipes. Apparently, pending noise laws in the U.S. dictated that the Twin Cam be a quieter engine, and it definitely is.
As far as the rest of the FXDL is concerned, the gearbox is essentially the same as that of the Evo, although it is mounted to the engine differently. Gear spacing, clutch action, and transmission feel are all about the same, as is riding position. The FXDL also comes with twin front disc brakes, which is a very good thing. This has always been one of the better handling bikes in Harley's lineup, and that hasn't changed. If you're feeling frisky and want to lean this bike over or take it deep into the corners, go ahead. It won't let you down or hit bottom. Personally, I have always considered the Super Glide/Low Rider series - Shovel, Evo, and Twin Cam - to be Harley's strongest models, representing a good combination of visual beauty, handling, braking, performance, and reliability. Aside from the Sportster 1200, there isn't another model from Milwaukee that can keep up to them, and they are still regarded as two-wheeled hot rods.
Some specs on the 1999 FXDL. It has seat height of 26 ½ inches (67.31 cm), a 62 ½ inch (166.37 cm) wheelbase, a total length of 94 inches (239 cm), and weighs 614 pounds (279 kg) dry. It is, as they say, a very tossable motorcycle, with above average high-speed handling and easy maneuverability around town. Clip on a windshield and some bags and you have a touring machine as well. After one very full day of riding, I dismounted the FXDL without any feelings of fatigue or stiffness.
However, a couple of minor criticisms. First of all, I still hate the buckhorn handlebars that come stock with this bike. They're terrible and Harley needs to toss them aside. I also have a bit of a problem with the price tag of the new FXDL. It's over $3000 more expensive than the essentially identical FXD. Why more? Mainly because of fancier paint, engine details, and additional chrome.
Still, the Twin Cam FXDL is truly a rider's motorcycle, is bound to keep its value well, and with its new powerplant, should be more reliable than ever.