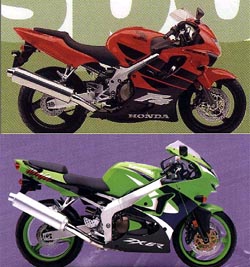 HONDA CBR600
V
KAWASAKI NINJA 600
Nicholas Frankl
European Correspondent
I don't know about you, but 155mph on a 600cc bike feels pretty quick to me. There are not a lot of straight sections of this particular motorway, but as I crested the brow, and saw the Blackbird accelerate away (two-up), I just figured what the hell-lets go for it. "IT" had already been a fantastic day. A morning blast down to Goodwood for the Festival of Speed, an automotive orgy, to the uninitiated, unparalleled anywhere in the world. A brand new Maserati 3200GT to race up the famous hill climb and a serious attempt at a record return run back to Kingston and over some of the loveliest country roads southern England has to offer. This was uncharted territory. The initiation into a different kind of raw speed, - unlike cars (even open top ones), racing cars or even bobsleds - the perception of travelling so fast, so unprotected in such a naked, wind resisting sense, was truly, not just a new experience, but a new understanding of just what is performance possible, and how frighteningly easily achievable it is.
This Ninja is a very capable bike. Not the fastest bike I have ever ridden, but a very fast bike, which in real terms is, with it's combination of low down torque, light weight, quick responses and top end pull, as fast a bike as you're ever likely to want in a city or county lane environment. Equipped with one of the loosest and freest revving engines on the market, the Kawa has the ability to soak up commuter runs with aplomb and leave all but the most determined pursuer in it's wake.
When TACH picked up the Ninja at Kawasaki HQ, we had just had the Laverda 750 Formula. WOW. What a difference. And I don't just mean mechanically. So fellow TACH writer Alexis asked me to pick between the new red liveried 600-R and the bright yellow CBR. I took the red one, it appeared to be the more muscular, which it is, and the larger, which it isn't, there's nothing in it. We both flawed it as we merged onto the motorway, and already it was clear that the Ninja had the edge on low down pick-up and acceleration. The CBR unit working in a V4 delivery format, with stronger power from mid range on, the first 3-5,000 revs not really putting the bread on the table. Equally when it came time to swap, I found the CBR incredibly easy to lean into corners, helped by it's lower centre of gravity, it handled much more smoothly, but felt a little heavier. The controls, all of them, being stiffer, less flexible and less willing, a deft hand required at all time.
Two days later, I gave the CBR back to an adoring Alexis and took back "my" bike. Sports bikes are strange animals. You either fit or you don't. The CBR and I didn't. The position wasn't quite right - but then the Kawa is hardly the Goldwing of sports comfort either - but nor was I comfortable with the feel of the Honda a less tangible quality that you cannot learn without truly testing. This is much more fundamental, and in fact I don't understand how anyone can buy a bike with anything less than a full day at the helm in a variety of riding environments. That said the CBR 600 is clearly and outstanding and highly acclaimed bike, Alexis for one preferred it over the Ninja. But, it all comes down to personal taste and in this instance the Ninja, although less well presented in terms of detailed quality and ergonomics, is, for me, a more pleasant riding experience more of the time and a bike which I could easily live with on a daily basis and enjoy every moment, either in town or on open B roads.
It's hard ass looks and stance only add to the visual allure, certainly the exhaust note is the best I have heard from any standard pipe. These things do matter when handing over money and emotions are involved. Two up the girl friend was not a very happy bunny. To be honest she's not a big bike fan period, but long legs and 600's don't' mix well, although the bike handled very well and continued to perform excellently, even if the 106 horses had to work a little harder for their dinner.
You cannot go wrong with either of these machines. But for the Ninja takes the top spot. If you want a different view read Alexis article.
KAWASAKI NINJA ZX6-R

Price           £6245
BHP             106
Weight          176Kg
Top speed       169mph!
S/S ¼           10.95 / 129mph