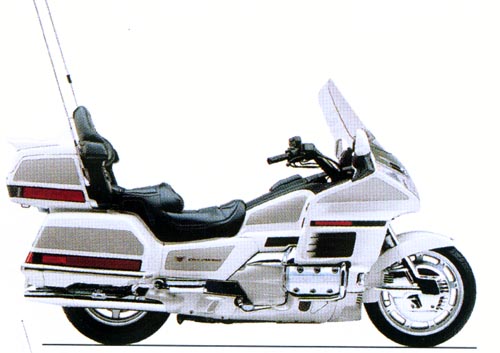 Honda Goldwing Anniversary
Winging along - Singing a song!
Nicholas Frankl
From the outset I was intimidated. Just walking up behind the crimson beast, felt like trying to get the attention of one of those club bouncers when he's got his 58ins back turned against you. Once astride, or should I say on top of, what faced/fazed me was the sheer volume of knobs and buttons that no rider can ever be prepared for. If you've never seen the flight controls of the space shuttle - how can you be expected to start it? It took the Honda security man and yours truly a while before we had worked out how to turn the ignition on, the immobiliser off and get the engine running, and that was before we attempted to work out the reverse gear thingy.
Thankfully - the CD system was standard- well the loading of the 6-CD autochanger in the cavernous rear backrest was. Working out how it played through the radio was less easy - but simple once I had located the instruction manual. So off into the damp London nightlife we went, GW and I warming to each other nicely, and literally, as I had accidentally turned on the heated grip warmer whilst looking for the volume control - or was it the microwave? The first thing you realise about this "bike" (such a minor word for such a magnificent beast), apart from its sheer size, is that it actually goes and handles rather well.
The engine I was familiar with. A week with the Valkerie last year having already left me in awe of the flat-6 100bhp beauty. This one of course has to work it's horses a little harder and is tuned differently as the Valk/6FC is a mere 309Kg, whilst the GW weighs in at 372kg-empty. Through light traffic (for London) the bike wafted along, shading me from all the ills of nature and singing to me all the while my favourite tunes. Riding and listening to a music CD, let alone surround sound, is something I've never experienced and it needs some careful thought, so as not to distract you initially from the road and your first priority. After a day I got hooked (but not on classics) as Mick and his mates from the Stones were never anywhere but by my side for the week.
Riding a Goldwing is the biking equivalent of driving a Ferrari. People don't look at you with envy and jealousy, but with respect and a kind of- if I had the dosh, I'd do it too mentality. The GW bought smiles from all who saw or heard her, of course Mick helped, and in fact was fully responsible for an impromptu dance session outside one of London's more trendy eateries on a Sunday evening - I kid you not 25-60 year olds - they were all jiving to the beat. Cars and even trucks took on newly found respect. Maybe because in this autojungle they feared they might be just as badly wounded should they venture too close to this shining armour.
Most of my biking friends reckoned that the GW would just be plain old tooo big for the streets 'n traffic of London, too wide and unwieldy to manage. But given a firm leg muscle or two and some practice I found the bike to be surprisingly adept around town. Obviously this is not going to deliver the pizza as quick as one of those maniacs on a 50cc. But as I've said before, the gaps they go for are the ones best avoided anyway - and with this thing and an engine a metre wide there is no temptation. Soho and crowds are not the best cruising ground though.
The front of the GW seems to behave in a strange manner at low speed almost as if it isn't connected properly, a lack of weight perhaps?. The shocks are so soft that you feel the front is riding on a mixture of sponge and butter (not a terribly good mix) and the front tyre appears incapable of absorbing any obstacles without them impacting on the wheel itself. The resulting sensation is rather unnerving, but better when travelling at speed. Roundabouts are not what you think of when designing GW's. Or so you'd think. The reality is that the bike corners incredibly well for it's size and weight, the balance is excellent and leaning it over is in fact quite good fun - so long as you remember to start the lean early on and anticipate your movements, captains of oil tankers will relate to this theory. Acceleration is brisk and naturally cruising, with the cruise control on or off is a dream, the large screen deflecting all the buffeting off you and your passenger. But mind out for sidewinds, for as with a caravan - the Wing doesn't like them too much.
Cruising around London I found GL1500 to be a surefooted and comfortable riding mate, able to swallow all my rubbish, wet weather gear, spare helmets etc with ease and remember this is the bike equivalent of taking one of those 28 wheeler Aussie Roadtrains into town to do a bit of shopping. No you won't show a clean set of heals to a CBR or any other 'R. But take it for what it is, and it'll surprise you I promise.

Honda Goldwing GL1500 SE 50th Anniversary

Price           £13,000
Engine          6cyl 1520cc
BHP             99
Weight          372Kg
Top Speed       125mph

Honda London    44 181 747 1400