A stranger in the crowd

By Alexis Bachofen

Harley Davidson's have become ever more popular in the UK, even though the British seem to have a fascination with Super-bikes, and the UK H.O.G. Harley Owners Group organised their largest and most ambitious rally in Cheltenham on July 1-4, which is now set to become an annual event, if the town of Cheltenham have their way.
Over 4200 riders came from all over the world, and I mean the world. I saw bikes from all European countries as far east as Russia and Estonia, bikes were also seen from Saudi Arabia, Hawaii and USA. What a turn out and success for HOG UK. Previous meetings have been held in France, Norway, Italy, Spain and Holland. Many events were held over the weekend included a mass parade of 3,000 bikes through Cheltenham and the surrounding countryside. A Ride-In Show featuring the top Harleys from across Europe, trade stands and dealer sales area. Other event included; biker games, Chapter Challenge, Laser show, Wet T-shirt competition, dancing a casino and technical workshop. The trade stands sold all sorts of useful stuff, including essential leathers, helmets, custom pieces all sorts of clothing and anything else riders carry with them. What a fantastic turn out, even the Major and Mayoress of Cheltenham and the local MP were there to admire all the bikes.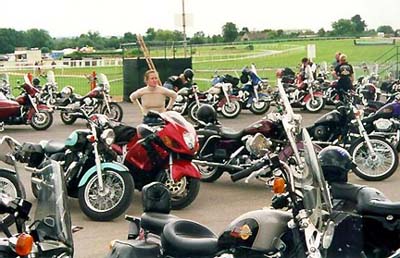 Based in Cheltenham, in the middle of the beautiful Cotswolds, I was not surprised to see many riders taking advantage of the perfect weather and going to self-guided tours as I approached Cheltenham on Saturday.
Unfortunately I didn't have a Harley to ride up on, but decided that Suzuki's Hayabusa would do just fine. If you have ever been to a Harley rally before, you'll be accustomed to all the riders hecking out all the bikes, wandering around trying to spot stylish accessories or a unique paint job. I thought Harley owners would sub me for not riding up on a Harley, but how wrong I was. Within in moments of me pulling up and switching of the engine I was surrounded by five Harley enthusiasts all inspecting the Suzuki and asking the usual questions I had by now become accustomed to. "Is this really the fastest bike in the world?" – "How fast have you been?" – "How long have you had it?" – "Do you like it?".
I was happy to answer all their questions and began my by now infamous safety procedure, attempting to ensure that Suzuki's bike would not end up in some lorry on it's way to the East. A pervious experience with a Harley has made me ultra paranoid, many other fellow TACH riders, including Nicholas Frankl often tease me. I needed not worry though; HOG had arranged 24-hour security on site. That aside and completed I was looking forward to wandering around and inspecting the trade fare, when another group approached the bike. All the same questions followed and I quickly crept away before I was asked anything else.
The trade fare was bustling and Harley engines were echoing all over the Cheltenham grounds, in the centre of the race course HOG had established a large tented area where many had erected their temporary accommodation. We saw some great bikes, including many of the 800 Buells that have thus far been sold in the UK, ate some good food in one of the many snack stalls and then relax on the Cheltenham grass.
Later when we wandered around the bikes again to take a couple photos, I was not surprised to still see a crowd around the Hayabusa, but was amazed by a group of half naked French riders who were parading around. It was again an emphasis of the atmosphere; everyone was relaxed having a fun day out, with many people whom all had one thing in common. Harley owners are unique, the fascination of the Harley is ever growing and when ones buys a Harley one is buying not only into a tradition but also an huge world-wide family. They may not have the power of the Super-bikes but the Harley Davidson is still the King of the road. I strongly recommend that every rider should attend a Harley rally at least once in their lifetime, Harley or not, there's nothing like it. Many riders will be going down to Austria for the Faaker See rally in September, try to make it; it'll be great fun.