New Motorcycle/Review
by Alexis Bachofen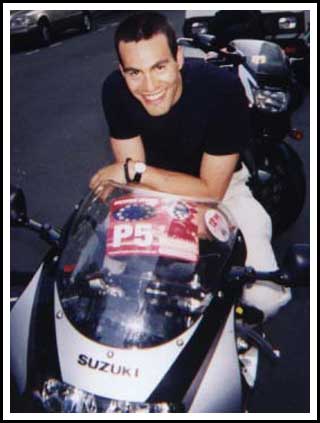 The 600 sports class is looking more competitive than ever now; where as a couple of years ago the Honda CBR was the clear leader all manufactures have sharpened up their act, and their bikes. Suzuki's GSX-R600 may lack the top end power of Yamaha's R6 and be a few miles an hour slower than Kawasaki's ZX-6R but I believe in its class it's the most fun and most desirable.
For £5,700 (approx.) the GSX-R600 is the cheapest in its class, yet it lacks nothing on all its competitors. The only other bike I've received as many inquires and compliments whilst riding on was the Hayabusa. The GSXR is very comfortable, easy to ride, has looks to die for and is fast as a bat out of hell. In fact the GSXR's smooth power delivery, over 4000 revs is fantastic. It's happy to be reved to the limit, and it's then that one can truly appreciate how Suzuki have taken all their race knowledge and concentrated it into a very affordable road machine.
I decided to take the GSXR to Brands Hatch for the World Superbike weekend, in fact I was so looking for any excuse to ride the bike, and rode down to Brands for Friday practice as well. I was at the same time anticipating a relaxing ride, it was going to be very hot and I was in no mood to wear a full set of leathers, I did wear my new Frank Thomas Predator race boots and gloves though. Kindly supplied to me by Frank Thomas and available from all good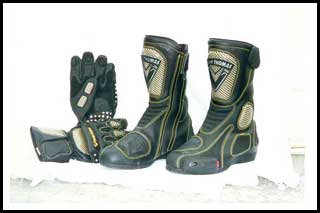 motorcycle clothing stores for around £170 for the boots and £80 for the gloves. The Predator boots look great, are made from full leather in a new ultralight Carbon shell. They offer maximum protection, with extra Kevlar and Carbon shin and ankle panels and available in Black or Red. The boots are comfortable and do offer very good protection, better than many other race boots, however I did find that they were a little wide and sometime hindered my foot's natural riding position. I also found that the leather and rubber was a little too thick above the gear shift and tended to making shifting a bit troublesome. However, they are very well made and I shall write more once I have worn them in. The Predator gloves again offer very good protection at a very decent price. They are a little thick for my liking, hindering feel, but the protection is there when you need it, as I experienced the hard way. The studded palms offer increased road protection although a couple ripped off when I had my moment and the knuckles are protected by Carbon. They are also warm and flexible and as all riders know good gloves are a must. I strongly recommend the gloves and can say from experience, they protect when they are put to the test. A special "thank you" goes out to Sarah at Frank Thomas for protecting my hands and feet in times of need.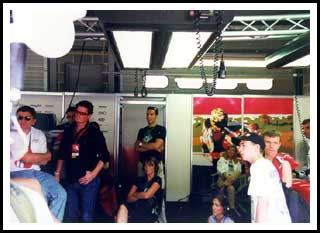 The ride to Brands was made even more enjoyable by the GSXR's fantastic wind resistance. The riding position combined with the excellent aerodynamics keeps the rider in an invisible cocoon. The bike is nimble and begs you to push it harder, a little twitchy on the exit of some corners but nothing to ever have to worry about. The bike feels as light as it is and with a couple added modifications for 99 the GSXR has become a bit more powerful. Improvements include a larger capacity airbox offering a 50% larger intake area that reduces resistance and engine noise. The length of the air funnel has been extended to increase intake volume and new redesigned exhaust pipes feature longer collection pipes. Also new is an adjustable compression damper on the front forks, allowing for a broader range of settings, for the road or track and thicker front disc brakes, increasing heat capacity and stability and preventing warping.
Whether on the open road or tight twisty bends the GSXR it great fun to ride. The engine responds quickly and the bike is so manoeuvrable and stable that you rarely think you may not make a corner. Fluidity is the name of the game when entering high speed bends on the GSXR; the bike eases into the apex and begs you to give it a full hand full of throttle. I would have loved to have taken the GSXR onto the track but had to settle down upon my arrival at Brands and watch the pros go to work.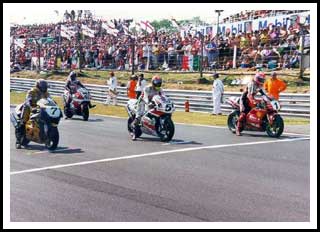 King Carl Fogarty, was the man everyone had come to see, going for his fourth consecutive World Superbike title; and by the time your reading this he would have achieved his goal. 'Twas to be an unlucky day for Carl. In the first race he blew a back tire and in the second he had various other problems. The fans were not to be disappointed, although Honda snatched a one-two in both races King Carl still somehow managed to steal the show. The Suzuki's put up a brave fight and as I had made the trip down to Brands they received my full support on the day. Chilli was after all riding on the big brother of the bike I was on.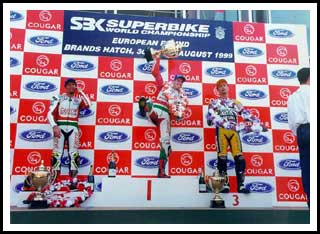 The GSXR is the kind of bike I would buy. It's great looking, fun to ride and with all the attributes one would expect from a Suzuki; great engine, fantastic stopping power and well balanced it's hard to find a fault. I can't think of a better compliment than to say it's a bike I would recommend to anyone, from beginners to advanced riders, with a GSXR your bound to have a remarkable time.
The price is right as well....so what's stopping you?
For more information on the GSX-R600 contact Suzuki at: www.suzuki.co.uk
For more information on Frank Thomas clothing in the UK Tel: (44) 01933 410 272. FRANK THOMAS

SUZUKI GSX-R600

Engine type:        Liquid-cooled, 4-stroke, 4 cylinder inline 16v DOHC

Bore x stroke:      65.5 x 44.5mm

Displacement:       600cc

Compression ratio:  12.0:1

Ignition:           Digital electronic

Transmission:       6-speed, constant mesh

Brakes: Front       4-piston calipers, 320mm dual discs

        Rear        2-piston caliper, 220mm dual disc

Fuel Tank:          18l

Dry weight:         174kg (384 lbs)

Seat Height:        830mm (32.7 inches)

Power:              104bhp @ 12,000rpm

Top speed:          163mph