New Motorcycle/Review
| | |
| --- | --- |
| | The New and Improved Honda VFR? |
By Nicholoas Frankl and Alexis Bachofen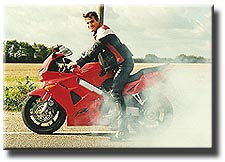 I canít imagine what Honda was thinking when they asked their engineers and designers to fashion a new motorcycle from the previous VHF. How does one improve on the best all rounder? In a class of itís own, I can only assume that Hondaís designers didnít like the look of their motorcycle so they decided to alter it.
However, Honda went one step further and not only improved on the VFRís looks but built an entire new engine, new frame and many other new features into their new flagship, naturally with reliability as standard. In a word, they got it right! As Honda put it, "... This VFR is all new, but itís role remains the same - to extend the boundaries of motorcycling excellence."
However, before I tell you how good the new VFR is, how it will destroy a 996 on the open road or get you up to 160mp/h, letís get a couple of things straight. It sounds bloody awful. Iíve heard lawnmowers, which have gone to better elocution lesions. It makes me wonder why Honda creates such a near perfect bike and seems to forget about the sound coming out the exhaust. So my advice is to any potential buyers, think about an exhaust now.
But donít get me wrong, I found little else wrong with the bike if anything at all. The seat is very comfortable and could be ridden for many hours without getting "sports-bike-crotch-strain". The pillion seat is also very accommodating and were it not for the ridiculous system of fairing hump/grab handle removal Iíd say Honda got it just right. Unfortunately however Honda designers have insisted on a system where you can attach the grab handle or the pillion seat hump, but not both. Welcome to the European Union! Honda should know better after all they got it right on the Fireblade. Sort it out! But before I really get going let me tell you how right they got the display.


-íIíve heard lawnmowers, which have gone to better elocution lesions.í-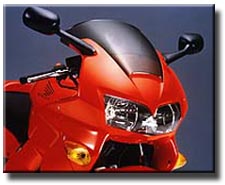 An all-new LCD display greets you when you turn the key. Itís like getting into a Ferrari F50. You immediately know how much fuel you have left, the temperature of the engine and air outside, in-case you were wondering why you were freezing, and my favourite, the time. And believe me that clock sure is handy. Ever been bundled up in leathers stuck on the motorway wondering what time it is. Well I have and Iím not exaggerating when I say the digital clock does it for me. If I had the money, Iíd buy a VFR just for that clock. Aside from that the display is perfectly contemporary, like the faring, Jonathan Stark would be proud. The speedo is easy to read whilst touring down the motorway, big and bright numbers that you just canít miss. However, I did find that the orange rev needle did seem to blend in with its white background, but hey I am colour blind. But Honda got it all spot on and I often found myself looking for the ĎJames Bondí machine gun switch for all those annoying four wheeled objects blocking my way.
The VFR has over the years been a favourite with individuals from all walks of life. This can be said of course for great many bikes, but those who buy a VFR are usually the slightly more mature and experienced riders. Indeed, my instructor who helped me passes my test rode a second generation VFR. I also know a that the VFR is a favourite with this countries police officers. That in itís self should tell you all you need to know, the VFR is a reliable, fun and very fast motorbike, and one I highly recommend. Thatís if you can afford to spend over £8,000. But you are getting a whole lot of bike for your money. If a Honda CBR is a BMW 3 series and the Blackbird is the 7 series; then the VFR would have to be compared to a Lexus. (Sorry Honda to mention your car rivals, but they donít make bikes yet!)


-ĎWell done Honda!í-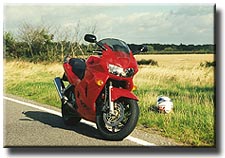 The new VFR has been given the best from the best. Not only does now have Hondaís new Combined Brake System* from the Blackbird (See the Honda Press release below), itís new computer controlled Programmed Fuel Injection V-four engine, with increased capacity, is adapted straight out of Hondaís RC45, one of the leading contenders in the World Superbike Series. This 781cc engine delivers a huge handful of low down torque and a maximum of 8.4 kg-m @ 8,500 rpmís capable of propelling itís rider at 100bhp into speeds in excess of 160mp/h. Donít forget youíll feel so comfortable youíll be there before you know it. With a well-designed airflow around the new fairing, one never fells like having to hang on for your life. In fact due to the new fairing and "quiet" engine, I often found myself riding slower than I would usually. I seemed to be so comfortable and happy, surrounded by all my creature comforts including my clock, that I wasnít bothered by the fact that Iíd lost my mates.
The new brakes are good, fools would have you believe that they are dangerous in traffic, but donít pay any attention to them. The VFR stops quickly and efficiently, in fact I felt that they added a little more, if possible, stability to the bike. They may not stop the bike as quick as say a GSX-R 750, but then they wonít scare you to death when you give them a good yank. Well done Honda!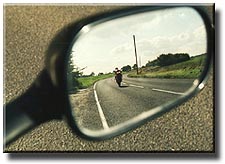 On country lanes I found that the VFR turned into corners superbly smooth and one could be forgiven and feel that the VFRís front end turns in a little too easily. But thatís only because weíre all used to bikeís which have to be forced through corners. It doesnít have to be that way. Even with a pillion the VFR flows through corners with the steady ease of the best, better than a Duke does! I made the mistake of riding my editors Motor Guzzi for a short while and almost went straight off the road.
To sum up, the VFR is as damn near perfect as you can get, without the fun being removed. It handles like a dream, goes like a flash and with looks to kill. If Superman rode a bike heíd have the new Honda VFR! Shame about the sound......
For 99 Honda are releasing the VFR in three colours, Italian Red, Pearl Prism Black and new Pearl Shining Yellow. All colours seem to reflect Hondaís emphasis that the new VFR is to be considered a little more tourer, oops I mean sportier.
Honda is even releasing a limited edition 50th Anniversary colour scheme. Based on its classic RC racing colours that lead Honda to victory at the Isle of Man. A silver fairing and bright red fuel tank and seat cowl, carrying Hondaís make of racing history. Which Honda say will provide a strong appeal for racing fans around the world and become a much talked-about machine in years to come. Much laughed about it seems to me! Have you seen the scheme, hey it worked 50 years ago, but now, well maybe Clake Kent would have one, but Iíll stick to the one-tone, thanks.
The Following information is taken from Hondaís Press Information:
Anti-Theft Ignition System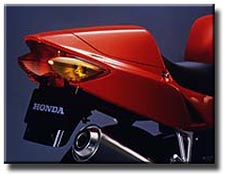 Amidst growing concerns about motorcycle theft, Honda has made concerted efforts to help its customers protect their investments, including the addition of convenient carrying spaces for strong ĎUí-locks and chains and convenient, effective lock-down points built into a motorcycleís frame and bodywork.
One of Hondaís more innovative devices, however, has been the Anti-Theft Ignition System, which prevents the engine from being started by any other than the motorcycleís two original keys. This new anti-theft system features a special coded chip implanted in each of the keys supplied with the motorcycle and a coil antenna built into the ring surrounding the upper edge of the key switch that instantly detects the presence of an encoded key. This code is then transmitted to the ignition systemís CPU (central processing unit) and compared against the two code numbers (one for each key) that the CPU is programmed to recognise. If the code is correct, as indicated by a meter panel-mounted LED lighting up when the key is inserted and then extinguishing upon confirmation, the engine can be started normally. However, if the key is identical in every other way, the ignition remains switched off and the engine cannot be started. Likewise, since the engine is disabled at the ignitions Ďblack-boxí, it cannot be bypassed by either hot-wiring the ignition or exchanging the combination switch module. The system also features a more robustly constructed combination switch that more effectively resists damage from tampering.
While the Anti-Theft Ignition System cannot protect the motorcycle against every possibility of theft, it does effectively prevent one of the most common forms of theft - the motorcycle being ridden away - and in this sense does much to deter potential thieves and joyriders.
Combined Braking System (CBS)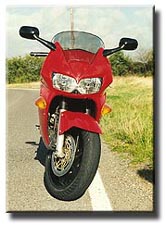 Hondaís CBS is an easy-to-use brake system designed to improve confidence in riding control. Not merely a linked system that divides foot pedal braking force between the rear caliper and one of the front calipers, CBS features a set of uniquely designed 3-piston calipers connected to two independent hydraulic brake systems. These combine to provide an optimal balance of front and rear braking forces whenever the hand lever and/or the foot pedal is used.
Featuring no electronic control, the completely hydraulic systemís key component is an innovative hydro-mechanical linkage that uses the rotational torque exerted on the front calipers when they are engaged to transmit front caliper braking forces to a secondary master cylinder. This secondary master cylinder then applies a corresponding amount of pressure to the rear brake caliper.
The result is brake lever feel identical to that of conventional brake systems, but with a more progressive range of rear brake control for a better balance of braking capability. Because the two systems are independent of one another, both foot pedal and hand lever can be used in any combination without resulting in excessive braking force or other unusual and potential dangerous response.



New Compact Dual Combined Brake System

1 Hand Brake Master Cylinder            5 Left Front Caliper
2 Delay Valve                           6 Pedal Actuation
3 Right Front Caliper                   7 Foot Brake Master Cylinder
4 Lever Actuation                       8 Rear Caliper





Specifications                  VFR (ED-type)

Price				£8,500

Engine				Liquid-cooled 4-stroke 16-valve DOHC 90į V-4
Bore • Stroke			72 x 48mm
Displacement			781.7cm
Compression Ratio		11.6 : 1
Carburettor			Electronic direct fuel injection
Max. Power Output		110PS/10,500rpm (DIN) (81kW/10,500min-1)
Max. Torque			8.4kg-m/8,500rpm (DIN) (82Nm/8,500min-1)
Ignition			Computer-controlled digital transistorised with electronic
                                advance

Starter				Electric
Transmission			6-speed
Final Drive			ĎOí-ring sealed chain
Dimensions 	      (LxWxH)   2,095 x 735 x 1,190mm
Wheelbase			1,440mm
Seat Height			805mm
Ground Clearance		130mm
Fuel Capacity			21 litres
Wheels 		        Front	17 x MT3.50 ĎUí-section 6-spoke cast aluminium
			 Rear	17 x MT5.50 ĎUí-section 5-spoke cast aluminium
Tyres 			Front	120/70 ZR17 (58W)
			 Rear	180/55 ZR17 (73W)
Suspension 		Front	41mm H.M.A.S. cartridge-type telescopic fork with stepless
				preload adjustment, 109mm axle travel
			 Rear	Pro-Link with 7-step preload and stepless rebound-adjustable 
                                gas-charged H.M.A.S. damper, 120mm axle travel
Brakes 		        Front	296 x 4.5mm dual discs with Combined 3-piston calipers and 
                                sintered metal pads
			 Rear	256 x 6mm disc with Combined 3-piston caliper and sintered 
                                metal pads
Dry Weight			208kg

Colours			        Italian Red
				Pearl Prism Black
				Pearl Shinning Yellow