New Motorcycle/Review

by Alexis Bachofen

When Yamaha first revealed their R6 my first thought was "what are Honda going to come out with to rival this motorcycle?" The saying; "Thereís nothing like a Honda" suddenly seemed to be irrelevant, who cares what Honda deliver, when one can choose between a Yamaha R6, Suzuki GSXR600 and a Kawasaki ZX600-R. But Honda was by all accounts already, still, one step ahead of the pack. Their latest CBR 600FX is a far cry from last yearís aged model; itís a step into the future, once again delivering the most perfect all round motorcycle, combining sports, touring and reliability into a near flawless machine.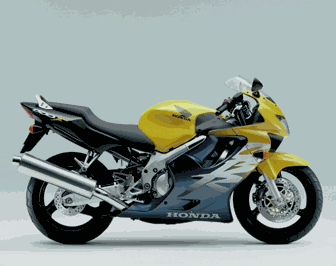 Iíve always had a soft spot for the CBR 600; after all it was my first motorcycle. It set the standard for 600sí, from the first day it was introduced as the Hurricane twelve years ago. But many would agree when I say that the new model, or CBR FX, has once again set the standard for all to compete against. Completely redesigned, a full 3kg lighter, 10 extra bhp and a new aluminium twin-spar frame result in a bike thatís only got one thing in common with last years model, the name!
On the outside the CBR looks radically different, and to tell you the truth, the first time I saw a picture of the bike I was a little stunned, not only did I think it was ugly but it looked so big. It seemed, to me, as though Honda was fed up with hearing how traditional their CBR bike was. Am I the only one who compared the previous model it to a BMW? However, upon received the bike from Honda my fears were well rested, the CBR is small, light and stunning in person. Honda have pulled out all the stops and created a modern masterpiece. In fact if I owned a gallery of modern art I would exhibit the new CBR 600FX in the entrance. Bikes like all things in life age, Yamaha converted and improved on an original design by Bimoto and Ducati into their R1 and R6, but their bikes already seem dated. I feel theyíre dated by the new CBR, itís a step into the future. Honda has once again done what they do best. Instead of redesigning a new bike around other manufactures machines they have brought out an original piece of art that all will be struggling to beat.
Honda were, apparently, aware of Yamahaís R6 development and knew they would have to design something special. It begs the question "what will next yearís Fireblade look like?" But undeterred by the competition Honda continued along their course to produce the best all rounder possible; the CBR FX is exactly that, the best all rounder in itís class available on the market today. It takes back the crown it held for so long and will now surely keep again of years to come.
Model

Price otr

Engine

Dry weight

Bhp /rpm

Top speed

Honda CBR

£6349

599cc

170kg

110/12,500

168mp/h

Kawasaki ZX-6R

£6245

599cc

176kg

106/12,500

169mp/h

Yamaha YZF-R6

£6599

599cc

169kg

120/13,000

167mp/h

Suzuki GSX-R600

£5774

600cc

174kg

104/12,000

163mp/h

Table is listed alphabetically

Also in this class: Yamaha YZF-600R Thundercat, Suzuki GSX600F, Kawasaki ZZ-R600
Although there are no huge technological leaps and bounds in the new CBR, Honda has included redesigned Direct Air Induction ports that enhance not only the performance of the bike, but also give the CBR a more aggressive look. When accelerating one can hear the ports sucking in gulps of air, that feed the hungry 599cc engine. Providing the air cleaner with a large, balanced amounts of clean air that optimises the flow of fuel and performance. At the same time small concealed outer ducks, peeking through small holes in the fairing, maintain the correct internal carburettor pressure; leading to a smoother more fuel efficient ride.
It is the CBRís ride that will set it aside from all its competitors. There is no other motorcycle available on todayís market that is more complete. This is instantly evident to any rider, for unlike most others in its class the CBR excels not only through busy city streets but also on country lanes and motorways.
The CBR is comfortable and useful for city use. With its newly designed under-seat compartment, that has finally become accessible, riders are able to store anything from a U-lock to wet weather gear. The space has been vastly increased and for the first time truly becoming useful. Be careful, and ensure that the seat is clicked fully into position, otherwise it may wobble back and forth slightly. The bike is also small and light, increasing its manoeuvrability through traffic. However, it is not until the CBR is ridden from the city onto twisty country lanes that one can acknowledge how all round the CBRís capabilities truly have been refined. From being a nimble traffic beater the CBR suddenly transforms into an aggressive road holding beast, it feels so stable in corners itís crazy! I felt like I was riding on a street that was covered in sticky yet smooth toffee, entering corners at break neck speeds the CBR didnít wiggle at all. The CBR is a fantastic confidence builder, continuously allowing you, whether youíre a novice or experienced rider, to push the limits of your abilities that little bit further. It is also a very "revvy" bike, and although it may not have the torque of some of itís rivals, a quick drop of a gear and thereís ample power provided by its 599cc 110bhp engine.
However on windy roads, itís not only the refined acceleration that is instantly noticeable, but also the improved suspension and brakes. The new and enhanced suspension is key to the CBRís new handling characteristics. The aluminium cartridge 43mm front fork rod is fully adjustable, enabling it to match any riding situation. The rear Pro-Link rear suspension supports the new aluminium swingarm and provides the rider with rock steady handling. So where other bikes seem light and wobbly, the CBR challenges itself to new and higher limits. Taken from the Fireblade, the new 4-piston caliper front disk brakes provide high-performance braking and control. The rear mounted lightweight single piston caliper adds a little stability to light and sudden braking. New 17" cast aluminium wheels and larger tyres again add to the CBR competitiveness and performance.
Itís hard to find anything wrong with the CBR; the new headlights are even as close to perfect as you will get on a motorcycle. The new electronic meter panel is, as one would expect from Honda, fully enclosed and elegantly fitted behind the fairing cowl. The displays are large and easy to read, including a new low fuel light warning. Unlike many other manufactures the attention to detail is spectacular. However, I did find that when parking the bike I kept catching my finger between the screen and the engine cut off switch. I hope that on future models Honda will adjust the screen so that rider's donít all end up with sliced fingers like me. But for £6400 the CBR is as good as they come. Itís a lot of bike for the money and one should seriously ask, "why buy a bigger bike or anything else?"
In its class it once again regains itís crown, beating all-comers as the best all rounder; a huge step ahead of last yearsí model and a serious contender for bike of the year. Colours for the year are sparkling Red (with Palette Purple), Pear Shinning Yellow (with Jerez Blue Metallic) and Black (with Boon Silver Metallic).
For more information contact your local Honda dealership.