New Motorcycle/Review
| | |
| --- | --- |
| | Moto Guzzi 1100 Sport Corsa and California Sport |
By Nicholas Frankl
European Correspondent.
Here's to the Good(ZZI) Times
How is it that great names fade away? Talk to even a moderately informed motorist/biker (petrolhead for short) and they'll go all wobbly at the notion of a Moto Guzzi. New one is it? They enquire- about the manufacturer-not just the model. Surprising to learn - for them not me- that this Italian specialist has been producing some of the most spirited and evocative motorcycles for the past 77 years.
Recently they have been catching up with the main stream manufacturers and in some cases embarrassing them too. The California EV is an outstanding combination of power, civility, comfort and durability- all reasons why the cognoscenti have voted it the best GT bike around. So MG have introduced a sportster version, with lowered seat, no panniers and a general dieting of all things ancillary to a street cruiser's cred. The Special is FAB! Not since Cindy C reappeared in Playboy have I wanted anything quite so badly. With the standard V-twin rocking across the frame and the dual pipes running for a full meter and a half, the pearl white Cali is not for the anonymous rider, for, along with the looks, their is the noise too. Not only does it look like a dream it rides like one as well. Quick to change direction in town and easy to cruise two-up through the country lanes. No the MG characteristics are not for everyone (just like brunettes) but if you're with the programme the Cali will reward at every turn. The 75bhp, 1100 V-twin engine is responsive and very flexible, allowing relaxed cruising around town and a push if you explore the upper reaches of the 8500 revs on offer, all the time serenaded by a glorious cacophony of old world heritage combined with new age instruments. But, the best bit comes when you need to wipe off the speed. Even with two-up, running hard with the traffic lights going red, a touch on the rear brake peddle will bring in to play MG's dual brake system- and wham, no white knuckles, just a sharp bite up front (which some how almost eliminates any dive) and a steady level pull-up. It's simpler than the Honda system and works extremely effectively once you've got the hang of it.
The result is a machine which you can hassle around town, thrash on the open road and smile throughout. As an evolution it's a credit to MG's engineers and a welcome addition to the Harley Sportster game-a model incidentally, which it leaves well in its wake.
On the sports note, as in racer, I am currently running the 1100 Sport Corsa and what a beast it is. As a companion to my newly acquired Lancia Integrale (ex-Ferrari Formula One ace Eddie Irvine and heavily tweaked) the Guzzi makes a fine partner.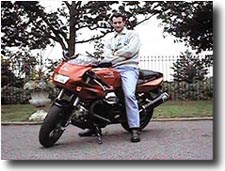 Long and low with a Red and Black paint scheme, the Corsa is awesome. Thoughtfully an MG petrolhead has removed the catalyst and affixed a pair of termignoni carbon cans that not only look as if they should have been decommissioned as part of some arms agreement but sound like a pair Howitzers. Result? Fabulous looks, great noise and steaming performance. Forget the fact that clearly red paint is a scarce commodity in Italy, so the inside of the cowling is left bare, that the instruments are mounted with a black foam surround so that on full lock the bars don't crash into metal, or that without fail the pillion's never enjoyed the rid'em high seating position- these are all details-and this is a Italian charisma machine not some Japanese bean counters science project.
So last Sunday (it matters not which one) we ( two CBR600's one VFR 800 and one Guzzi) set off in search of some deserted country lanes on a crisp clear day. The first thing I noticed was how much respect I got, not just from other bikers, but from the general populous around the city. A good thing if keeping safe is high on your wish list. The attention was of course helped significantly by the accompanying field artillery sound effects. The M11 runs north-east of London up through beautiful Essex countryside and into serious sports bike territory. Running at a steady 90mph, the Guzzi is comfortable and rock steady - as you would expect from a bike weighing over 220KG, it is also responsive, because once the engine is running at over 4500-5000 revs it's whole manner changes, and the power becomes stronger and smoother. Winding it on in fifth is a doddle and results in mid-120mph velocity in a flash, with a little noise bombardment, too, of course.
Now onto the windy black tops. CBR up front, CBR behind and VFR bringing up the rear. The Micron exhaust and jetted 600 pops a big wheelie to signal the start of play, kind of like the umpire tossing the coin at the Wimbledon men's final, and we all open up with a blitz on the gas. It's not easy to ease the best out of the Guzzi- you have to work at it. Each corner pushing a little hard, braking a little deeper and accelerating a little earlier. But with this cautious progress (after all we have the next 3-4 hours to enjoy) the 1100 motor starts talking you in unison with the chassis and now warmed-up Pirelli's. With every up-change comes a renewed sense of pleasure of genuinely working with the machine, which at times feels like it has a bit of the devil in it, untamed and waiting to bite you. Winding down the box, which I am afraid to say is still the weakest link throughout the range, you match the revs to keep it smooth and steady, but also just cos it sounds sooo damn good.
Out over moorland I swapped with our "quickest" rider. Now, with the 80 V-four thumping away and roaring after the Guzzi, I could see the whole package in action, down the straight the VFR was just too slippery, but through the twisty stuff, although incredibly easy to lean over and chase, the Honda left me somehow removed from the action, not that, in it's own way, it isn't just an outstanding motorcycle, just that, on a day meant for riding, the Guzzi was the best partner - if not the most comfortable of buddies.
The end result? Everyone agreed that if we could afford 'a collection' then a Guzzi Sport Corsa would have to feature in it. As for my own view. I was sad to see it go-particularly as a very unsporting women decided to reverse her car into it, knocking it over and causing significant damage-all the while pretending not to notice, I assume, as she fled the scene. That said I like to think that maybe she was just a frustrated Ducati rider? Nice thought, but I doubt it.

Motor Guzzi 1100 Sport Corsa

£8495
1064 cc
90bhp
215kg

Motor Guzzi California Special

£ 7950
1064kg
75bhp
251kg