New Motorcycle Review
Art House Touring
BMW R 1200 C
Nicholas Frankl
European Correspondent
What can you say about BMW's first serious attempt at a cruiser? Firstly you have to hand it to there L.A design studio and the cool dudes who came up with the radical styling and secondly you have to congratulate the German engineers for transforming art work sketches into a real living breathing and going motorcycle.
Powered by the largest Boxer engine ever, the 1170 cc, 61 bhp chrome machine, will embarrass many sportsters out there. The first thing that hits you is the sheer amount of aluminium and steel, and the way it's been used. The front Telelever is a piece of sublime design, giving both brilliant aesthetics, surefooted (if a touch light) handling combined with outstanding braking and no dive. I have had, over the years, admirers look, stair and even crane at the machinery that I been lucky enough to test, but nothing has ever provoked the awe in which this bike was received by the public in and around London. I suppose for this we must thank another great BMW division, yes you know the one, the marketing boys and there lavish advertising, not to forget Mr Bond I presume, who cannot have done the street cred too much harm. No when the Beemer Boys (owe and it was so nearly the Bentley boys too) decide make an entrance you had better be on the Mars probe if you want to avoid it.
| | |
| --- | --- |
| Why then after all this thought and brilliance does the actual riding experience leave me somewhat underawed? A little like the climax of a movie when the bad guy doesn't GET IT! Yes, the bike is quick, very responsive and quite comfortable, particularly with the back rest up. But at the same time the exhaust note is so feable, that upon hearing it, one of my friends likened it to a locust with a cork stuck up its bum (how he knew what that sounded like I never did find out), but I think that you get the message. As for cruising, HA! I have never riden a bike less comfortable on the open highway. Unlike with most cruisers where the rider sits low and protected by the front body work, on the beemer you sit high and are very unprotected by the small light and even smaller instrument binnacle. Talking of which, I don't know who designed the indicator switches and what size fingers they have, but my medium sized gloved hands had serious problems both activating and deactivating the fiddly buttons. Oh, and guys (n' gals) if you're going to make chrome etc the name of the game, don't go and make the starter a naff grey plastic button. | |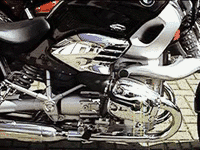 To BMW's credit, I hear that a sports exhaust is coming and a small screen is already available. Apart from that, what you see is what you get. A cool looking, bad sounding cruiser that will impress your friends no end and no doubt run for ever. That's if the horizontally opposed twin doesn't rock you out of your seat at the traffic lights and the circulation through your hands doesn't pack in after a long journey courtesy of the vibration. But all in all- it's a true Guggenheim mobile with need for a touch more substance.

Price           £9500
Engine          1170cc
Weight          285kg
Torque          72.3ft-lb @ 3000rpm

NB. I have just been flicking through BMW's new clothing range and as well as some of the best helmets in the shape of their new System 4, BMW have designed some outstanding (if not cheap) clothing which I highly recommend you take a trip to your local dealer to view.