SEE ALSO: Lincoln Buyer's Guide
NEW CAR REVIEW
Lincoln Mark VIII (1996)
by Mark Fulmer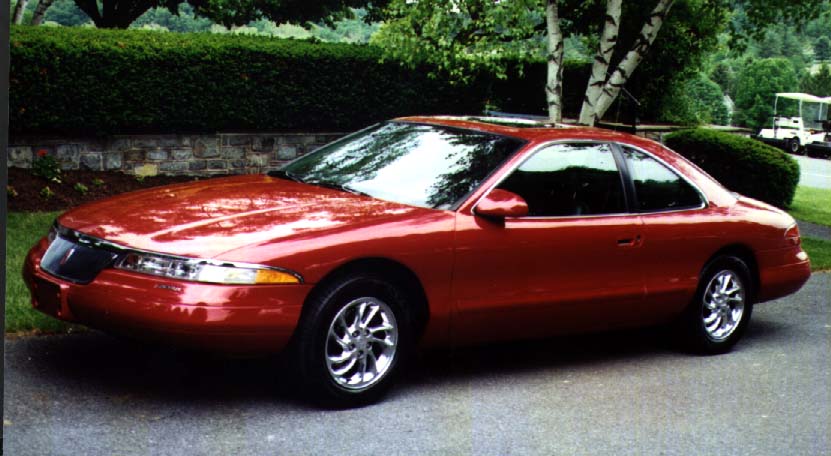 This is the third year for the Mark VIII, and it seems to be a very good year. From the moment I slid behind the wheel to the instant of making a decision to pass on the freeway, the phrase that seemed to stick was: solid comfort.
Solid was the performance of the 4.6 liter V8 with its electronic four-speed automatic transmission. When you needed the power, it was there. The handling approached the firmness of a flat our sports coupe, but backed away, leaving a moderately soft touch with a slight racing edge. A marvelous braking system seemed almost transparent yet absolutely confident.
Comfort was the look and feel which grabs you the minute you sink into the leather multi-adjustable seats. The dash is clean and concise with its clean sweeping curve. The co-pilot enjoyed the digital status displays which displays about a 15 point status check of fluid systems, doors, lights, etc., then can be selected to display compass headings or fuel economy as you will.
We drove a very red Mark VIII. Very red. That made highway cruising a bit more cautious because all studies show that red cars receive more tickets. My co-pilot explained that owners of red cars are more aggressive. Whatever. It is quite plain th at if you are going to drive the Mark VIII you should be careful, because it is extremely easy to exceed any given speed limit. But it's a great drive: laid back for long trips, and remarkably agile for sporty errands.
For solid comfort, it's the Mark VIII.
ENGINE SPECIFICATIONS

Type: Dual-overhead-cam (32-valve) V-8
Displacement: 4.6-liter (281 cubic-inch)
Horsepower: 280 at 5500 rpm
Torque (lbs-ft): 285 at 4500 rpm
EPA rating: 18/26 mpg (city/highway)
Compression ratio: 9.85:1
Note: LSC engine is rated 290 horsepower and 295 pound-feet of torque.

DIMENSIONS

Wheelbase: 113.0 in.
Length: 207.3 in.
Width: 74.8 in.
Height: 53.6 in.
Weight: 3767 lbs. (curb)
Track width: 61.6 in. (front), 60.2 in. (rear)
Fuel tank: 18.0 gallon
Cargo volume:14.4 cu. ft.
Seating capacity: 5