SEE ALSO: Honda Buyer's Guide
Honda Civic EX Sedan (1996)
by Carey Russ
Soichiro Honda was a practical engineer. He's gone now, but his spirit lives on in the company he started and its products. Consider the Honda Civic. It has been a mainstay of the subcompact class since its introduction in 1973. The first Civic combined then-radical technology and eminent practicality.Now in its sixth iteration, the Civic line continues that tradition. The line has expanded from that first hatchback, and continues to be one of the benchmarks in its class.
1996 Civics are available in hatchback, coupe, and sedan body styles to allow for different tastes,desires, and budgets in the subcompact class. They have minor body redesigns and major upgrades offer features that were unthinkable in the "economy car" class not so long ago. Quality of materials and fit and finish are first-rate. Coupes and sedan are a little more upscale than the hatchbacks, but all are offered in a choice of trim levels.
Flagship of both coupe and sedan lines is the well-equipped EX model. It gives buyers Formula One racing-developed engine technology in a car that, 1fully equipped, costs well under the average price of a new car. The optional automatic transmission uses the same sophisticated electronic wizardry as thatin the luxury Acuras. These features are in the car because they work, and allow the Civic to perform economically and reliably. The race-bred VTEC electronically-controlled variable valve timing system is not used for absolute performance, but for better all-around performance and fuel efficiency.
A week ina Civic EX sedan showed it to be an enjoyable, economical, and useful car that combines the verve of a sports sedan with the frugality of an economy car. It exemplifies practical engineering at its best. APPEARANCE: On the outside, the 1996 Civic sedan looks little different from its immediate predecessor. Subtlety is the operative principle in its restyling. The goal was to provide a distinctive, upscale appearance. Honda's stylists were successful. A new front treatment includes a sculptured hood that blends into a new grille that shows kinship with the luxury Acura line. Large wraparound headlightsprovide greatly increased light output for night driving. Cabin glass area has increased for improved visibility. The short, high rear deck ends with larger taillights.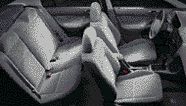 COMFORT: Once subcompacts were noisy, marginally comfortable cars. That is no longer the case. Thenew Civic EX sedan has more head and leg room, and is smoother and quieter than the previous generation. There is plenty of room inside for a young family of four. High-quality synthetic materials are used for the well-finished interior. There is no sense of cheapness anywhere in the car. The front bucket seats are padded with good, dense foam. The rear bench can be folded down with a 60/40 split for increased cargo capacity. Instruments and controls are well-placed and legible. The standard air conditioner causes no power loss, and the heater warms the car quickly. There are useful storage spaces throughout the passenger compartment. The dealer-installed cassette or CD with AM/FM stereo systemgives good sound with sensitive FM reception. My test car was fully-equipped with power-operatedwindows and mirrors, and a power moonroof - all part of the EX package. SAFETY: The Honda Civic sedan has all of the modern safety features. Dual air bags, side-impact protection door beams, front and rear crush zones, and antilock brakes are all standard equipment.

ROADABILITY: Attention to aerodynamic details has reduced wind noise. Larger glass area hasincreased visibility. A new, more rigid chassis provides a stable platform for the fully-independent suspension. The ride is firm and well-damped. Although it is biased for comfort, the handling is verygood. The Civic EX is a family sedan with (allegedly) no sporting pretensions, after all. Maneuverabilityis an active safety factor, and the EX is quite maneuverable. As an extra bonus, it's a lot of fun to drive.
PERFORMANCE: Who else but Honda would give the masses Formula One-derived technology? The1.6-liter 16-valve, single-overhead cam engine uses the VTEC variable valve timing system to boost lowand midrange power. Its 127 horsepower makes the Civic EX an energetic little character with a high smiles-per-mile factor. Low engine speed power, once the weak point of Honda engines, is good, and the engine will willingly see its 7000 rpm redline. It makes all of the right noises and none of the wrong ones. The standard 5-speed manual transmission it the perfect match for the family enthusiast.
CONCLUSIONS: With the introduction of a new, sixth generation of Civic, Honda continues thetraditions of technical excellence and economical practicality started with thefirst models 23 years ago. The top-of-the-line EX sedan combines sporty performance and fun with comfort and economy.
SPECIFICATIONS

Base Price                              $ 16,280
Price As Tested                         $ 16,884
Engine Type and Size                    inline sohc 16-valve 4-cylinder,
1590 cc / 97 cu. in.
Horsepower                              127  @ 6600
Torque (lb-ft)                          107 @ 5500
Transmission                            5-speed manual, 4-speed EC auto opt.
Wheelbase / Length                      103.2 in. / 175.1 in.
Curb Weight                             2518 lbs.
Pounds Per Horsepower                   19.8
Fuel Capacity                           11.9 gal.
Fuel Requirement                        unleaded regular
Tires                                   P185/65 R14 85S Firestone FR680 m+s
Brakes, front/rear                      vented disc / drum
Suspension, front/rear                  independent double wishbone with coil
                                        springs / independent trailing arm with
                                        coil springs.
Drivetrain                              front engine / front drive
                    
PERFORMANCE

EPA Fuel Economy - miles per gallon
    city / highway / observed           30/36/32
0 to 60 mph                             8.2 sec
1/4 mile (E.T.)                         15.9 sec
Coefficient of Drag (cd)                .32