New Car Review
1996 FORD WINDSTAR LX
by Tom/Bob Hagin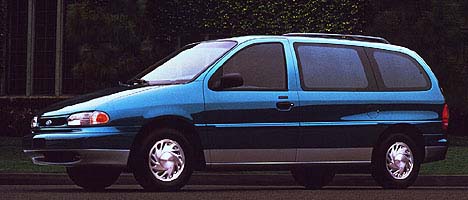 SEE ALSO: Ford Buyer's Guide
SPECIFICATIONS

     Manufacturer's Suggested Retail Price              $ 24,465
     Price As Tested                                    $ 27,865
     Engine Type                             3.8 Liter V6 w/EFI*
     Engine Size                                 232 cid\3802 cc
     Horsepower                                   200 @ 5000 RPM
     Torque (lb-ft)                               230 @ 3000 RPM
     Wheelbase/Width/Length                  120.7"/75.4"/201.2"
     Transmission                           Four-speed automatic
     Curb Weight                                     3840 pounds
     Fuel Capacity                                  25.0 gallons
     Tires  (F/R)                                     P215/70R15
     Brakes (F/R)                              Disc-ABS/disc-ABS
     Drive Train                  Front-engine/front-wheel-drive
     Vehicle Type                      Seven-passenger/four-door
     Domestic Content                                 85 percent
     Coefficient of Drag (Cd.)                               N/A

PERFORMANCE

     EPA Economy, miles per gallon
        city/highway/average                            17/23/19          
     0-60 MPH                                        9.9 seconds
     Payload                                         1800 pounds
     Maximum Towing Capacity                         3500 pounds

     * Electronic fuel injection

(The minivan battle has really heated over the past dozen years and the scramble to keep up has the engineering departments of the auto makers burning the midnight oil. Ford is deeply entrenched in the fray with its newest Windstar and the Hagins (son Tom and father Bob) check it out from two perspectives and two generations.)
BOB - Tom, calling the Windstar a "minivan" is a misnomer. This machine is big at nearly two tons and its outside dimensions are only a bit smaller than those of a railroad car. But it powers along quite well considering the fact that the V6 engine is only 3.8 liters in size.
TOM - As usual, Dad, you're exaggerating. The Windstar is big, but the trend is towards minivans growing larger to fit the needs of suburban Americans. Almost all of the makers offer extended wheelbase models and are making them more car-like. They've replaced the jumbo stations wagons of 30 years ago and as an example, this new Windstar has optional radio controls for rear seat passengers, complete with earphones. It's an option designed to keep the kids in back occupied with music that would otherwise drive the adults up front crazy.
BOB - You're right about this Ford minivan being more of a family "car" than its stablemate, the Aerostar. That machine is built on a true truck concept with a separate body-on-chassis and rear-wheel drive. On the other hand, the Windstar is built on an extended Taurus chassis and carries the same front-wheel drivetrain as the last-generation Lincoln Continental. As minivan enthusiast, I like the fact that you don't need a stepladder to climb onto the front seats and that it has lots of storage cubbies and cupholders. The optional console gets in the way of crawling rearward, but at my age, I don't usually crawl over the top of things to get into the back seats anyway.
TOM - Since the Windstar doesn't take the place of its Aerostar stablemate, buyers can get either one this year - for around the same price. But the Windstar is much more slick and even the coefficient of drag is about as "slippery" as some of the best sports coupes and "jelly-bean" sedans. There's a ton of room inside and although I didn't try it, the Ford people tell me that you can almost fit the furniture from a small apartment into a Windstar. I was able to stuff my mountain bike and my gear into it after I took out the rear seat. That seat sure is sturdy, however - getting it out and putting it back took two of us.
BOB - The engine in the Windstar LX uses a somewhat dated pushrod design to work the valves but it's been updated with some high-tech stuff. It only has two valves per cylinder but the aluminum heads carry two ports for each intake valve. A small one is in operation at low speeds and another, larger port comes into operation at higher revs. It now puts out 200 horses and pulls this mini along at a hustling pace.
TOM - Dad, you're so technical, I don't think you'll be happy until we begin getting our test cars with a dismantled engine in back for you to examine. The 3.8 liter V6 is standard the Windstar LX we tried but the GL version uses a smaller V6 with 50 fewer ponies. And to negate comments of the past that accused the Windstar of being too slow off the line, Ford engineers dropped the axle ratio a bit to make it accelerate faster. That, and the Windstar's weight may account for the fact that it doesn't get really great fuel mileage. It handles pretty well, although you're aware that this is a big machine and built to haul passengers and "stuff." Its body rolls on its axis quite a bit in tight turns, but I never felt that it ever reached the scary stage.
BOB - There's a bunch of option "packages" available on the Windstar that include changes in interior lighting and convenience items galore, but I recommend the towing package. It includes disc brakes in the rear, a bigger battery, a full-sized spare, oil coolers on the engine, transmission and power steering - all bumping its towing capacity up to 3500 pounds. I think it should be included on every Windstar.
TOM - Dad, you've got to remember that most people don't use their new minivans to haul a trailer full of old car parts and ancient race cars to Sunday swap meets.